Last Updated on November 5, 2023
If you're a golfer, chances are that you've heard of "a links golf course". But what exactly is it? A links golf course is an ancient type of course dating back centuries and has its own unique characteristics, which make playing on one, unlike any other experience. From the history to the benefits, this blog post will provide all the information needed to understand why so many people love playing on a links golf course. So read on for everything you need to know about these beautiful courses.
Table of Contents:
Definition of a Links Golf Course
A links golf course is a type of golf course that is typically found near the coast. It features an open, rolling terrain with few trees and plenty of sand bunkers. The fairways are usually wide and undulating, with deep roughs to challenge even the most experienced golfer. Links courses also tend to have large greens, often surrounded by mounds or other hazards such as water or thick grasses.
The defining feature of a links course is its close proximity to the sea; this gives it a unique look and feel compared to inland courses, which can be heavily wooded or manicured parkland layouts. This closeness to the ocean also affects how windy these courses can be – something that should always be taken into account when playing on one.
Links courses are often thought of as being more challenging than their inland counterparts due to their natural design elements like firm turf, uneven lies in bunkers and thick roughs. These factors make them ideal for tournament play, where accuracy off the tee is key, and approach shots must be precise in order for players to score well.
Key Takeaway: Links courses are an eco-friendly and challenging option for golfers, with their firm turf, uneven lies in bunkers and thick roughs providing a unique test of skill.
History of Links Golf Courses
The history of links golf courses is an interesting one, and it dates back centuries. The earliest known records of the game date to the 15th century in Scotland, where a type of golf was played on seaside links land. This primitive rendition of the game was far distinct from what we now recognise; as opposed to striking a ball with clubs, players would use rods to strike pebbles into depressions dug in the soil.
The term "links" refers to coastal sand dunes that are common along many parts of Britain's coastline. These areas provided ideal terrain for playing golf as they were flat and had few trees or other obstacles that could interfere with play. Over time, these areas became associated with the sport and eventually gave rise to what we now call "links" courses.
The Royal and Ancient Golf Club (R&A) was founded in St Andrews, Scotland – considered by many to be the birthplace of modern-day golf – in 1744 and set out regulations for playing on links courses. These regulations included defining fairways as the area between tee boxes and greens; bunkers filled with sand meant to challenge players; hazards such as water bodies or deep roughs designed to make shots more difficult; and areas that must not be crossed during play known as 'out-of-bounds'.
The links courses of today are some of the most iconic locations in all sports, thanks to their unique combination of natural beauty and challenging design elements that require skilful shot-making from players at all levels. Examples include Royal Troon Golf Club in Scotland, which has hosted The Open Championship nine times since 1923; Ballybunion Golf Club, located near Limerick, Ireland, ranked among the top 100 Courses outside America; Pebble Beach Links Course, located near Monterey, California, having held five US Opens since 1972; Muirfield Village situated close by Edinburgh Scotland hosting the annual British Masters Tournament; Carnoustie Golf Links also known as "Carney" close by Dundee Scotland with six Open Championships since 1931 including 2018 edition won by Francesco Molinari; and finally, Turnberry Ailsa Course home venue for 1977 Duel In Sun between Jack Nicklaus and Tom Watson famously won by latter after memorable chip shot at 18th hole.
Key Takeaway: Links golf courses offer a unique combination of natural beauty and challenging design elements, making them some of the most iconic locations in all sports.
Characteristics of Links Golf Courses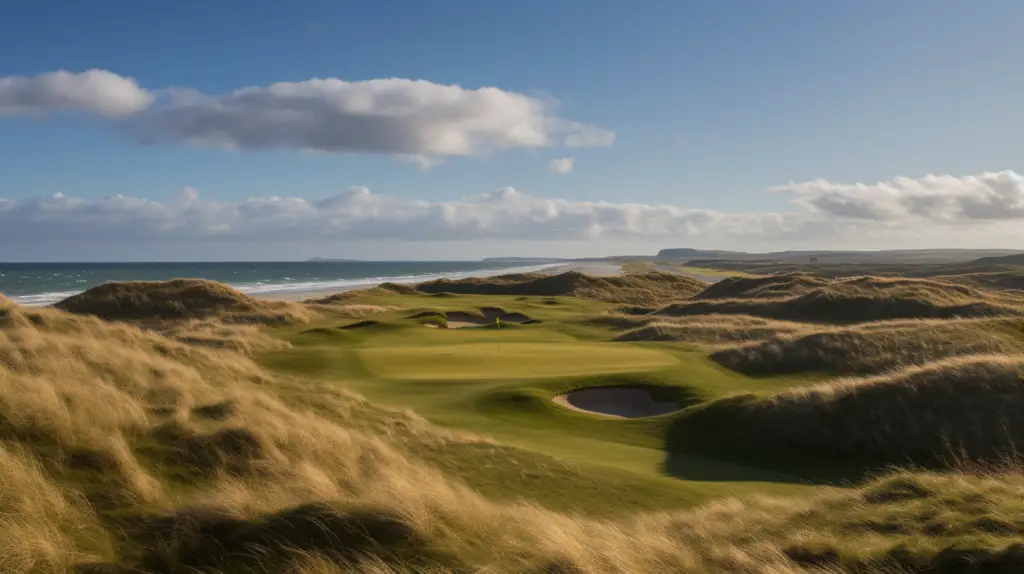 It is typically located near the sea and features sandy terrain with rolling hills, dunes, and other natural hazards such as gorse bushes. The turf on a links course tends to be firm and fast-running due to its sandy soil composition. This allows for shots to roll out further than they would on a typical parkland or heathland course.
The fairways are usually wide open but can also have strategically placed bunkers or mounds, which add an extra challenge when playing from the tee box. Links courses often feature large greens with undulating surfaces, making them difficult to read and putt accurately on. Additionally, many links courses contain pot bunkers which are deep pits filled with sand that make it difficult for players to get their ball back onto the green if they land in one of these traps.
Links courses are known for their windy conditions due to their coastal location; this makes them especially challenging, as gusts can cause balls to move offline even after being struck perfectly by the player's clubhead. Furthermore, weather conditions like rain can cause waterlogging, which leads to soft ground conditions where shots may not run out as far as expected despite having hit well off the tee box or fairway lie.
Overall, links golf courses provide unique challenges compared to other types of courses due mainly in part because of their terrain characteristics combined with unpredictable weather elements such as wind and rain that make each round more interesting than your average day at the range.
Key Takeaway: Playing a links course can be an unpredictable and challenging experience, as windy conditions and changing weather can make it difficult to read the terrain and accurately predict shot outcomes.
Benefits of Playing on a Links Course
Playing on a links golf course can be an incredibly rewarding experience for any golfer. Links courses are unique in their design and offer a range of benefits that make them ideal for improving your game.
The most obvious benefit of playing on a links course is the improved accuracy it offers. The terrain of these courses often includes rolling hills, deep bunkers, and undulating fairways, which require more precise shots than other types of courses. This forces players to think strategically about each shot they take rather than simply relying on power alone. As such, playing on a links course can help you develop better decision-making skills and improve your overall accuracy when hitting the ball.
Another great benefit of playing on a links course is its challenge factor. These courses typically feature narrow fairways with plenty of hazards like sand traps or water features that must be avoided at all costs if you want to score well. This means that even the most proficient golfers must exercise every bit of their expertise to steer clear of danger while traversing the course, thus rendering it an ideal choice for those wishing to refine their artistry and advance as players.
Finally, many people enjoy the aesthetic beauty offered by links courses as well as their challenging nature. These courses are often set against stunning natural backdrops featuring lush green grasses, rugged cliffsides, and crystal clear waters – creating an atmosphere unlike any other type of golfing environment available today. Not only does this make for an enjoyable round, but it also provides ample opportunity for relaxation between shots, too – something we could all do with from time to time.
Key Takeaway: Links courses are a great way to improve accuracy, challenge your skill level and enjoy stunning natural beauty all in one.
Frequently Asked Questions
What is the difference between a golf course and a links?
A golfing facility, a specially crafted terrain that serves as the venue for playing golf, typically features an eighteen-hole layout with each hole having its own tee box, fairway, rough and green. It typically consists of an 18-hole layout, with each hole having its own tee box, fairway, rough and green. A links is a type of golf course which is usually located near the coast and has fewer trees than other courses. The terrain tends to be more undulating, with natural hazards such as sand dunes and bunkers often found on the course. Links courses are generally considered to be more challenging due to their open nature, windy conditions and unpredictable bounces off uneven surfaces.
Why do they call golf courses links?
Golf courses are referred to as 'links' due to their historical connection with the game. The term originates from Scotland, where golf was first played in coastal areas known as 'linksland'. These were sandy strips of land that connected inland areas with the sea and provided a perfect terrain for golfing. Links courses typically feature undulating fairways, thick roughs, and fast-running greens which make them challenging yet enjoyable for players of all levels. Today, many links courses remain in use around the world and continue to provide an exciting test of skill for avid golfers everywhere.
What makes a course a links course?
A links course is a type of golf course that is typically found in coastal areas. It features undulating terrain, often with sandy soil and natural hazards such as dunes, bunkers, and gorse bushes. Links courses are usually characterised by firm fairways and fast greens due to the windy conditions they experience. The challenge of playing on a links course lies in its unpredictability; the ever-changing winds can cause shots to play differently each time they are taken. As such, links courses require players to think strategically about their shot selection and be able to adjust quickly when faced with unexpected circumstances.
Conclusion
A chance to be immersed in golf's storied past while also being confronted with the unique difficulty of links courses awaits those who dare take on this special experience. Whether you're looking for a new challenge or want to soak up some of golf's rich heritage, there's nothing quite like playing on a links golf course. So why not give it a try? You won't regret it.