Last Updated on October 19, 2023
If you're a golf enthusiast looking to up your game, then playing on a par 3 course is the way forward. It's an exciting and challenging new way of approaching the sport, giving players the opportunity to hone their skills with every stroke. But what exactly makes a par 3 course unique? Read on to find out more!
Par 3 courses are specially designed for those who want to practice their accuracy without having to tackle long drives or difficult hazards. With tee boxes placed closer together than in other types of courses, these creative layouts put more emphasis on precision over power – so it's no wonder they've become such a popular choice among amateur and professional golfers alike.
These practical yet thrilling courses also have another advantage: they tend to be smaller than traditional 18-hole tracks, making them ideal for getting in 9 holes during lunchtime or after work. So if you're short on time but still eager for a quick round, then why not give a par 3 course near you a try?
Main Features of a Par 3 Course
A par 3 course is a golf course that consists of only holes with a length of three strokes or less. It's the perfect place for beginner and casual golfers to hone their skills – as well as experienced golfers who want to practice short-distance shots. Par 3 courses provide an ideal environment for hole-in-one opportunities and are usually much smaller than a traditional 18-hole course, making them suitable for those looking to take on challenges without having to carry around a full set of clubs. The fairways are generally tighter, providing more risk when taking your shot.
Additionally, since it's easier to focus solely on your accuracy rather than power, you don't need to bring all 14 clubs in your bag – just a lighter set will do. All in all, par 3 courses offer an enjoyable experience that won't wear out even the most avid golfer!
Distinguishing Factors From Other Types of Golf Courses
Par 3 courses are distinct from other types of golfing options. They offer a unique challenge and experience to players looking for an enjoyable day on the links. Here are some distinguishing factors that separate par 3 courses from other types of golf:
Miniature-golf: Unlike miniature-golf, par 3 courses have real grass fairways and greens, as well as sand traps and water hazards like any standard course would have. The holes tend to be much longer than those found in miniature golf or pitch-and-putt courses.
Pitch-and-Putt: Par 3 courses do not require as many clubs as full 18-hole rounds; however, they still require more than what is typically used for pitch-and-putt-type games. Players will need at least three woods, one putter, and several irons to effectively play all nine holes of a par 3 course, unlike a pitch-and-putt which usually only requires two clubs – either a driver or hybrid club and putter.
Executive Course vs Full Course: Although executive length courses can also be considered "par 3" due to their shorter yardages, you won't find the same features on them, such as island greens, deep bunkers or tight doglegs that make up a typical 9 hole par 3 layout. Many executive courses lack the creativity in design and strategic elements that come with playing a Links Style Par 3-hole set-up.
Overall, it's clear that when comparing different styles of golf, there are vast differences between each option but especially between traditional full-length 18-hole golf courses compared to a Par 3-course setup. A great example of this difference is seen in how players approach approaching island greens versus regular greens, something traditionally seen on most Par 3 layouts but rarer on larger-scale golf destinations.
Why Play on a Par 3 Course?
Par 3 courses offer a unique golfing experience for every level of golfer. Beginner golfers will find par 3 courses to be less intimidating than traditional 18-hole courses due to the shorter holes and faster rounds. Advanced golfers will appreciate the challenge that comes with having to choose the right club on each shot and working around the course's hazards in order to achieve their desired score.
Not only are par 3 courses great for honing your skills, but they can also provide an incredibly scenic round of golf. With typically smaller greens and fewer trees surrounding them, you'll have beautiful views while playing, as well as plenty of opportunities to practice your short game. Whether you're just starting out or looking for a refresher round, there is something special about enjoying a leisurely round at your local par 3 course!
Advantages for Beginners & Advanced Players
A Par 3 golf course offers advantages to both beginners and experienced players alike. For those new to the sport, these courses provide a simpler introduction that can help them learn the game more quickly. Meanwhile, for those with more experience, they offer an opportunity to practice their short game and focus on accuracy.
| Advantages | Beginner Benefits | Advanced Benefits |
| --- | --- | --- |
| Scenic views | Easier navigation | Sharpen skills |
| Short holes | Less intimidating | More challenging options |
| Low cost | Lower score expectations | Improve aim & technique |
Beginners have the advantage of being able to take in the beautiful scenery while navigating the shorter holes without feeling overwhelmed by the size or difficulty level of larger courses. With lower score expectations, par 3s are also less expensive than some other types of courses. Experienced players benefit from sharpening their skills and improving their aim and techniques through playing on a course with more challenging options.
Par 3s offer something for everyone—from novice golfers to seasoned pros—with plenty of benefits along the way. Whether you're just starting out or looking for ways to refine your game, a Par 3 golf course is ideal!
Common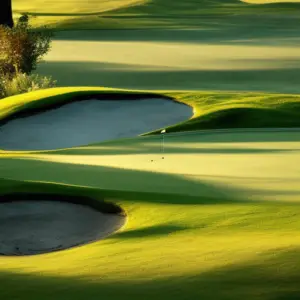 A par 3 golf course is a type of course featuring shorter holes than those found on traditional courses. This makes them ideal for beginners and casual players looking to improve their skills. Par 3s are designed to be completed in less time, making them more convenient for busy individuals or families who don't have the luxury of spending an entire day at the links.
Par 3s usually range from 60-120 yards, with some longer holes included here and there. The yardage markers placed around each hole provide a distance measuring so that players know exactly how far they need to hit the ball. Additionally, par-3 tees can be set up ahead of time allowing players to choose different lengths for their shots which adds another layer of challenge and fun to the game.
In order to make sure all skill levels have access to this type of golf course, many clubs offer both regular green fees as well as discounted rates specifically for par 3 play. As such, these short-hole courses offer a great way for anyone interested in learning or improving their game while keeping it accessible no matter what your budget may be.
Popularity of Par 3 Courses Around the World
Par 3 courses have become increasingly popular around the world due to their various advantages. They are perfect for players who want to practice and hone their skills or those looking for a quick round of golf without all the hassle that comes with playing an 18-hole course. Here are some reasons why par 3 courses have been gaining popularity:
Cost Effectiveness: Par 3 courses tend to be more affordable than traditional full-length courses, making them accessible to many different people from all walks of life.
Variety: Par 3s offer a variety of holes and shots which can help keep your game fresh and interesting. This makes them ideal for players who don't always have time for a full round but still want to get in some quality practice.
Speed: With fewer holes, you can finish up a round of par 3 quicker than if you were playing on an 18-hole course. This is great when you're pressed for time and need to squeeze in a quick game before work or other commitments.
The convenience, cost-effectiveness and speed offered by par 3 courses make them attractive options for recreational players as well as experienced professionals alike. Their shorter length allows players to enjoy the experience of golfing without having to commit too much time to it; while also allowing beginners to gain knowledge on how to play this beloved sport at an accelerated rate. As such, they continue to grow in popularity across the globe, offering countless benefits not only financially but also physically and mentally.
Conclusion
To sum it up, Par 3 courses are a great way to enjoy the sport of golf in a quick and affordable manner. It's important to know how long it takes to finish a round on one of these courses as well as what type of clubs should be used for optimal performance. Additionally, you'll want to find out if carts can be used and how many players are allowed per group.
Overall, playing a game on a Par 3 course is an excellent option for those who don't have much time or money but still want to enjoy some golfing action. The short length makes it fast-paced and exciting while also allowing you to get in some practice with your swing and shot selection. So grab your clubs and head out to your local Par 3 course today!
Whether you're just starting out learning the game or looking for an enjoyable day on the green with friends, par three courses offer something for everyone. With their shorter holes, they can provide a quicker environment that still allows plenty of opportunity to refine technique and perfect strategies. Give them a try – you won't regret it!