Last Updated on June 5, 2023
What is a golf cart bag? Golf cart bags are an essential piece of equipment for golfers who want to make their game more efficient and enjoyable. Whether you're a beginner or a seasoned pro, having the right bag can make all the difference in how your round goes. But what exactly is a golf cart bag?
Golf cart bags are specially designed to hold your clubs while riding around the course. They feature several compartments that allow easy access to different types of items, such as tees, balls, gloves, and even food and drinks. The straps help keep them securely attached to the golf cart so they won't slide off during play. Additionally, some models have special pockets for valuables like keys and wallets.
With so many options available today, choosing the right one can be overwhelming – but don't worry! In this article, we will go over everything you need to know about selecting the perfect golf cart bag for your needs. From size and weight considerations to storage features and customization options, I'll give you all the information you need before making your purchase decision.
Types of Golf Cart Bags
Golf cart bags come in a variety of styles and sizes, so choosing the right one can be overwhelming. The main categories are stand bags, carry bags, tour bags, and staff bags. Stand bags have several pockets for accessories as well as two straps that make them easy to carry on your back while walking on the course. Carry Bags are smaller than stand bags but still provide adequate storage space with several zippered pockets and wide shoulder straps for comfortable carrying. Tour Bags offer maximum club organization with individual slots for each club and plenty of room for extra gear like rainwear or snacks. Finally, Staff Bags are large enough to hold multiple sets of clubs and feature ample storage capacity for all golfing needs – they're often used by professional players and caddies.
Features of a Golf Cart Bag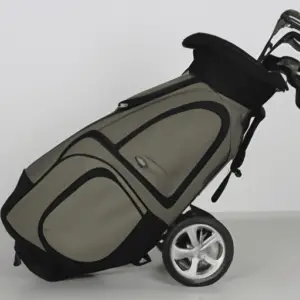 A golf cart bag is an essential piece of equipment for any golfer, offering both convenience and organization. It's important to consider the features that make a great cart bag when shopping around. Cart bags typically have fourteen dividers, eight pockets, and plenty of storage space. The dividers are designed to keep clubs organised, with some having full-length or individual club slots for even better organization. Many higher-end models also come with additional features such as insulated cooler compartments, rain hoods or covers, integrated handles, custom embroidery options and more.
When looking at different brands of golf cart bags, it's essential to check out all the available features they offer. Does the bag include a padded shoulder strap? Are there extra pockets for your small items like tees and ball markers? Look for quality construction materials, too; waterproof fabrics will help keep your gear dry on rainy days, while durable zippers can save you from broken pulls during those long rounds. Don't forget a good rain cover in case of heavy showers – this feature will ensure your clubs stay safe and dry no matter how hard it rains! With all these features taken into account, choosing the right golf cart bag should be easier than ever before.
Weight and Portability
When it comes to golf cart bags, weight and portability are key factors. A quality bag should be lightweight enough for easy carrying from the car to the course while also having enough strength and durability not to tear or wear down over time. The size of a bag is also important in terms of manoeuvrability – you don't want something too bulky that will make it difficult to move around on your cart or carry between locations.
Customisation Options
Golf cart bags provide golfers with plenty of customization options to stand out. Customised golf bags can be personalised with an embroidered logo or a special message for that extra personal touch. Golf bag logos are great for teams and businesses looking to promote their brand on the course! You can also choose from different colour combinations when it comes to your golf bag. With the many colours available, you're sure to find one that stands out from the crowd. Not only will they add some personality to your setup, but they'll help keep your clubs organized too.
Pros and Cons of Golf Cart Bags
A golf cart bag is a great way to carry your clubs and other gear around the course. But, like with any purchase, there are pros and cons associated with choosing this type of bag. Let's look at some of the advantages and disadvantages of using a golf cart bag for your next round.
The first advantage is that a golf cart bag offers more space than most traditional bags without being too cumbersome or heavy. This means you can easily store extra tees, balls, a rain jacket and even snacks in one place while still having room to spare. In addition, these types of bags usually have built-in compartments designed specifically for storing drinks and valuables securely during play.
On the downside, it may be difficult to manoeuvre when walking on hilly terrain due to its size. Also, if you're used to carrying your own clubs from hole to hole, then opting for a golf cart bag could feel slightly awkward at first as it tends to weigh more than stand bags or backpacks. Furthermore, customizing options tend to be limited compared to regular bags since they must fit into designated slots on the cart itself.
There are both advantages and disadvantages associated with purchasing a golf cart bag – but overall, it provides an excellent solution for those who frequently ride carts between holes or need extra storage capacity during their rounds.
Alternatives to Golf Cart Bags
For those who prefer to walk the course, there are several alternatives to golf cart bags. The most popular is the golf pushcart which offers all the convenience and storage of a golf cart bag with far less strain on your body. A golf trolley is also an excellent option for those seeking more mobility while playing. Alternatively, if you don't need as much storage space but still want portability, a golf stand bag or even a golf travel case might be better suited for your needs. Lastly, for those whose clubs must remain outside during inclement weather, investing in a good quality golf cart cover can help protect them from damage caused by rain and other elements. No matter what type of golfer you are, there's sure to be an alternative out there that will meet your needs perfectly.
Frequently Asked Questions
Is It Worth It to Invest in a Golf Cart Bag?
The most obvious benefit of using a golf cart bag compared to other types of bags is its ability to be strapped onto a riding or push cart. This makes it easier for players to get around the course without having to carry heavy equipment on their backs or shoulder while they walk the fairways. The convenience factor can save time, energy, and even money, depending on what type of cart you use. In addition, these bags have larger pockets and more storage space than traditional stand bags, so you can easily fit all your gear into one place without worrying about leaving anything behind.
Investing in a golf cart bag also offers long-term savings since these bags tend to last longer than traditional stand bags due to their sturdy construction and materials used. When you compare the cost and longevity of this type of bag versus others available on the market today, there's no doubt that investing in a golf cart bag offers great value over time.
How Do I Choose the Right Size for My Golf Cart Bag?
Choosing the right size for your golf cart bag is essential if you want to get the best use of it. To make sure that you select the perfect one, here are a few tips from an expert in this field:
1) Look at a golf cart bag size guide or chart. This will give you a general idea of what size would be suitable according to your needs.
2) Compare different models and their sizes when selecting the most appropriate one. You should also consider the number of pockets and dividers, which can influence the overall weight and balance of your golf bag.
3) A great way to determine which size is ideal for you is by using a golf bag size calculator online. It takes into account various factors such as height, length, width, etc., so that you can understand exactly how much space each item requires inside the bag.
4) Test out different sizes before making your final decision – try carrying them around and see how comfortable they feel on your shoulders and arms. Make sure that it's not too heavy for you, either!
Having considered all these points carefully, now you're ready to purchase a golf cart bag with confidence! With just a bit of research beforehand, finding the optimal fit won't take long at all!
How Do I Clean and Maintain My Golf Cart Bag?
When it comes to cleaning and caring for your golf cart bag, there are some important things that need to be done regularly:
Cleaning off dirt or debris that accumulates on the outside of the bag using a damp cloth
Wiping down all zippers, pockets, and other hardware attached to the bag with an all-purpose cleaner
Spot treating stains when necessary – Deep cleaning fabric components such as straps or lining by hand washing them in mild detergent and warm water
Applying waterproof spray once every six months to keep water from seeping into the material
With proper care, maintenance, and attention given to your golf cart bag, it should provide many rounds of enjoyment without worry or hassle!
Conclusion
So, what is a golf cart bag? In conclusion, golf cart bags are an essential part of any golfer's arsenal; having one that fits comfortably and meets all of your requirements can make a huge difference in terms of performance out on the course. When it comes to choosing the right golf cart bag, there are a few things you should consider. It is best to take the time to research different models and pick one that works best for you – after all, we want our game to reach its highest potential!