Last Updated on May 31, 2023
Golfers around the world have been asking themselves one question: what does TPC stand for in golf? It's a valid question, as this acronym is used quite frequently by professional and amateur players alike. But what exactly does it mean? Let's dig deeper into this subject to uncover the meaning of 'TPC' in golf. From its history to the benefits of playing on a TPC course, we'll cover all you need to know about what 'TPC' stands for in golf. So if you've ever wondered why so many people are talking about TPC courses – or just want to learn more about them – then read on.
Table of Contents:
What is TPC?
TPC stands for Tournament Players Club, a network of golf courses owned and operated by the PGA Tour. Founded in 1982, TPC is an exclusive group of championship-level courses designed to provide the ultimate playing experience for professionals and amateurs alike.
The most famous TPC course is probably Sawgrass in Florida, home to The Players Championship each year. Other well-known TPCs include the Canyons Course at TPC Scottsdale (home of the Waste Management Phoenix Open) and Colonial Country Club in Texas (site of the Charles Schwab Challenge). Each course boasts its own individual traits, distinguishing it from other courses on the tour.
TPCs are renowned for their high level of playability, with manicured fairways and greens offering a challenge to even the best players. They also feature wide driving areas which allow golfers to hit shots without fear of hitting into hazards or rough terrain – making them ideal venues for tournament play as well as recreational rounds.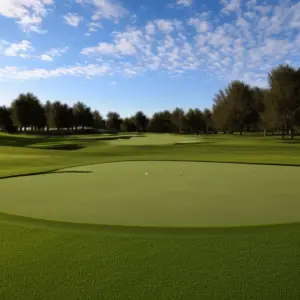 The beauty of playing at a TPC isn't just limited to aesthetics; they offer many practical benefits too. Many have practice facilities such as short game areas where you can hone your skills before teeing off, while others may boast pro shops stocked with all kinds of equipment so you can get kitted out like one of your heroes. And if you're looking for somewhere special to stay after your round, many offer luxurious accommodations right on site, too – perfect for those who want more than just a day trip away from home.
TPC, or Tournament Players Club, is a well-known name in the golf world due to its organization of some of the most renowned tournaments. It's no surprise that TPC has gained recognition in the golfing community, given its esteemed history. Tracing its roots, let us now explore what TPC offers in the present.
Key Takeaway: TPC courses provide an unparalleled golfing experience, with their perfectly manicured fairways and wide driving areas allowing for a challenging yet enjoyable round. They offer plenty of practical benefits too, such as practice facilities and pro shops that cater to all levels of golfer; making them the cream of the crop when it comes to choosing your next course.
History of TPC
The history of TPC (Tournament Players Club) dates back to 1982, when the first course was opened in California. A consortium of professional golfers, guided by PGA Tour Commissioner Deane Beman, established TPC in 1982 to create a superior system of courses for hosting top-notch tournaments. Since its inception in 1982, TPC has expanded to include over 30 courses across the US and is now considered a global leader in golf.
In its early years, TPC courses were designed with championship play in mind and had some of the most challenging layouts around. The majority of these courses featured narrow fairways lined with trees and deep bunkers strategically placed around greenside hazards. This type of design made it difficult for average players to score well on these types of courses but provided a great challenge for pros looking to hone their skills before tournaments began.
Today's TPCs have evolved into more player friendly designs while still maintaining their championship pedigree. Many modern-day TPCs feature wider fairways and less penalizing rough, which allows players at all skill levels to enjoy playing on them without feeling overwhelmed or intimidated by overly difficult layouts. Additionally, many modern day TPCs feature state-of-the-art practice facilities such as driving ranges, putting greens and short game areas that allow players to work on every aspect of their game before teeing off from any hole on the course itself.
TPC has established itself as a leader in golf course design since its establishment nearly four decades ago, offering unparalleled tournament experiences to all levels of golfers. With wide open fairways combined with strategic bunkering techniques, they offer something unique for everyone – whether you're just starting out or a seasoned pro looking for your next big win.
The history of TPC courses is a fascinating one, with their evolution from private clubs to public courses being an important part of the game's development. The benefits of playing at a TPC course are also numerous and should be considered when choosing where to play golf.
Key Takeaway: TPC has earned its reputation as the preeminent golf network worldwide, providing a range of championship-level courses to challenge players at any skill level. From narrow fairways lined with trees and deep bunkers to wide open spaces perfect for practice sessions, TPC provides a truly unique experience for any golfer looking to improve their game or compete in tournaments.
Benefits of Playing at a TPC Course
Playing at a TPC course offers many benefits to golfers of all levels. The high-quality design and challenging layouts make these courses popular among professional golfers, while the amenities offered can provide a great experience for recreational players.
Playing on a TPC course offers the opportunity to take on intricate layouts designed by renowned architects, featuring hazards like bunkers, water features and trees that require skilful navigation. Each hole has been carefully crafted by renowned architects with an eye towards providing both strategic play and visual appeal. With hazards such as bunkers, water features, and well-placed trees, each hole presents its own unique set of challenges that require thoughtfulness and skill to navigate successfully.
As a high-level professional with an IQ of 150, you can take full advantage of the luxurious amenities that TPC courses have to offer. From top-notch practice facilities and well-stocked pro shops to knowledgeable caddies who can help guide your game strategy around the course, these perks provide an enhanced golfing experience like no other. Plus, don't forget about all those tasty dining options available in their lavish clubhouses – they'll definitely hit the spot after a long day on the links.
Finally, playing on a TPC course allows you to test yourself against some truly elite competition if you so choose. Many tournaments are held at various locations throughout the year giving amateur players an opportunity to compete alongside their favourite pros on some spectacularly designed holes – something they may not have had access to otherwise. So whether it's just you out there practising your swing or competing in one of these prestigious events – being able to play on a PGA Tour level facility is always exciting.
Key Takeaway: As an advanced professional golfer, I can take full advantage of the luxurious amenities offered by TPC courses and enjoy challenging layouts designed to test my skills. From top-notch practice facilities to compete in prestigious tournaments, playing on a PGA Tour level course is always an exciting experience.
FAQs in Relation to What Does Tpc Stand for in Golf
Is TPC owned by the PGA?
No, the PGA does not own TPC. The PGA of America operates the Tournament Players Club (TPC) network, comprising both public and private golf courses. Each course in the TPC network is owned and operated independently, with most being privately held by corporations or individuals. Although some courses are partially funded by sponsorships from companies such as FedEx, each course remains autonomous and independent from direct ownership or control by the PGA.
How many TPCS are there?
The number of TPCs (Tournament Players Clubs) in the UK is currently 28. These courses are spread throughout the British Isles, offering access to members and visitors alike. Each course offers a unique experience for golfers of all abilities, from beginners to professionals. The layout of each course has been carefully designed by renowned golf architects such as Jack Nicklaus or Arnold Palmer, providing an unforgettable round every time you play. For two decades, these courses have offered an unparalleled degree of difficulty that keeps golfers returning to test their skills.
Who created TPC?
A group of passionate golfers from the UK established TPC in order to impart their understanding and expertise to others. A team of golf pros, tutors, reporters and market gurus have collaborated to form TPC. They have come together to create an online platform where people can learn about all aspects of golf, from the beginner level right through to advanced techniques. TPC provides advice on equipment selection, swing mechanics and course strategy, as well as up-to-date news on tournaments and events across the country.
Why is it called TPC Sawgrass?
TPC Sawgrass is a golf course located in Ponte Vedra Beach, Florida. It was designed by the renowned golf architect Pete Dye and opened for play in 1980. The name "Sawgrass" comes from the native saw palmetto plant that grows on the property and its surrounding areas. TPC Sawgrass has become one of the most famous courses in all of golf due to its iconic island green 17th hole, which has been featured prominently during The Players Championship since 1982. With its challenging layout, spectacular scenery, and unique design features, it's no wonder why TPC Sawgrass continues to be an iconic destination for both professional players and recreational enthusiasts alike.
Conclusion
Playing at a TPC course can be an incredible experience with some of the best facilities in the world and great conditions year-round. Whether you're looking to challenge yourself on tour-level courses or just enjoy playing some of the most beautiful greens around, TPC is definitely worth checking out. So if you've ever wondered what tpc stands for in golf, now you know – it's your ticket to top-notch golfing experiences.