Last Updated on October 30, 2023
Golf clubs are essential tools for any golfer, and their shafts play a major role in the performance of those clubs. Replacing golf club shafts is a process that requires precision, accuracy, and knowledge to ensure proper fitting for an optimal game. This article will explain how to replace golf club shafts in detail, including what materials and tools are necessary, as well as step-by-step instructions on completing the task effectively.
Identifying the Right Shaft for You
Golf club shafts are an important component of a golf club and can have a significant effect on the performance of the golfer. It is essential that golfers understand how to identify the correct shaft for their game. The main factors to consider when choosing a golf club shaft are shaft flex, swing speed, and body type.
Shaft flex refers to the amount of flexibility or bends in the golf club shaft under load during a swing. Generally, higher-handicap players need more flexible clubs, while lower handicaps require stiffer models. Club fitting is recommended since it will help determine which flex suits one's game best. Swing speed also must be taken into account, as faster swings require stiffer shafts than slower ones. Lastly, body type should be considered; taller players tend to benefit from slightly stiffer clubs than shorter players with slower swing speeds. With this information in mind, selecting the right golf club shaft for your game becomes simpler and will aid in improving performance out on the course.
Selecting a Replacement Shaft
When replacing golf club shafts, selecting the appropriate one is essential. The weight and flex of a shaft determine how it will perform on an individual basis, so understanding these two characteristics is important when choosing a replacement.
To select the right shaft for maximum performance:
Analyse swing speed: Players should analyse their swing speed to find what type of shaft works best for them. Generally, those with slow swings require more flexible and lightweight shafts, while faster swings need firm, stiffer designs.
Consider launch angle: Launch angle—the trajectory of the shot—is another factor that should be taken into account when replacing golf club shafts. Those who hit high shots can benefit from heavier clubs as they tend to produce lower trajectories, while lighter clubs are better suited for players seeking higher launches.
Additionally, having professional help in fitting new golf club shafts may prove beneficial since there are numerous options available on the market today. Professional fitters understand all aspects involved in finding the perfect match between driver and player; thus, taking this route ensures the proper selection and installation of any replacement parts necessary for optimal performance. Improperly matched or installed components can lead to decreased accuracy and distance, which defeats the purpose of even considering a shaft replacement in the first place.
Purchasing a New Shaft
When replacing golf club shafts, a golfer must consider the type of material from which to purchase the new shaft. Steel and graphite are two popular choices for those looking to replace their existing clubs. Graphite is lighter than steel and offers more flexibility, whereas steel is stronger and sturdier with less vibration on impact. Additionally, each type of material has its own set of characteristics that can influence performance.
In most cases, buying a pre-made shaft will be easier than assembling one from scratch. Pre-made shafts come in various lengths and flexes, so golfers should make sure they choose a model that suits their unique swing speed and strength requirements. When selecting a new shaft, it's important to take into account the weight ratio between head and grip as well as other factors such as torque rating and kick point. All these variables can have an effect on ball flight trajectory and accuracy when hitting shots off the tee or fairway. Ultimately, choosing the right replacement golf club shaft requires careful consideration by taking all these parameters into account before making any final decisions.
Installing a New Shaft
Replacing golf shafts is a process that requires specific tools and knowledge. The first step in the installation of a new golf club shaft is to remove the old one. This can be done using a vice or an adjustable wrench, depending on what type of tool is available. Once the old shaft has been removed, it is important to inspect both the tip and butt end of the replacement golf shaft for any irregularities before installing it. If there are any noticeable dents or scratches, they should be addressed prior to attempting to install the new shaft.
After inspecting the new golf club shaft, it must then be cut down to size according to manufacturer specifications. A hacksaw with fine-toothed blades is typically used for this purpose, although other cutting tools, such as sawzalls, may also suffice if needed. It is essential that care be taken when making these cuts in order to ensure proper length and fitment of the replacement shaft upon completion of installation. After cutting, check again for any irregularities along either side of the newly trimmed shaft before proceeding further.
Next, insert one end of the replacement golf club shaft into its corresponding sleeve from which the original was removed and secure tightly with a clamping mechanism so that no movement occurs during play. Use lubricant spray or graphite powder on both ends of the newly installed golf club shaft while rotating it several times within its respective sleeve to ensure smooth operation when playing rounds on the course later.
Professional Installation Services
The process of replacing golf club shafts can be time-consuming, and the task requires skill and precision. For those who are unable to replace their own golf club shafts, professional installation services may provide a viable solution. Professional golf club installation services specialise in installing new or replacement shafts for all types of golf clubs. These technicians are capable of performing precise measurements and adjustments to ensure that the correct specifications are met when installing a new shaft into your golf club. Additionally, these professionals have access to high-quality parts, which ensures that you get the best performance from your equipment.
It is important to note that many professional golfers and instructors recommend having an experienced technician install any new or replacement golf club shafts, as it will result in better accuracy and distance control. Furthermore, seeking out professional help can save time and reduce frustration compared to attempting DIY repairs. Therefore, if you require assistance with replacing your golf club shafts, consider utilising the expertise of professional installation services.
Troubleshooting Issues With Replaced Golf Club Shafts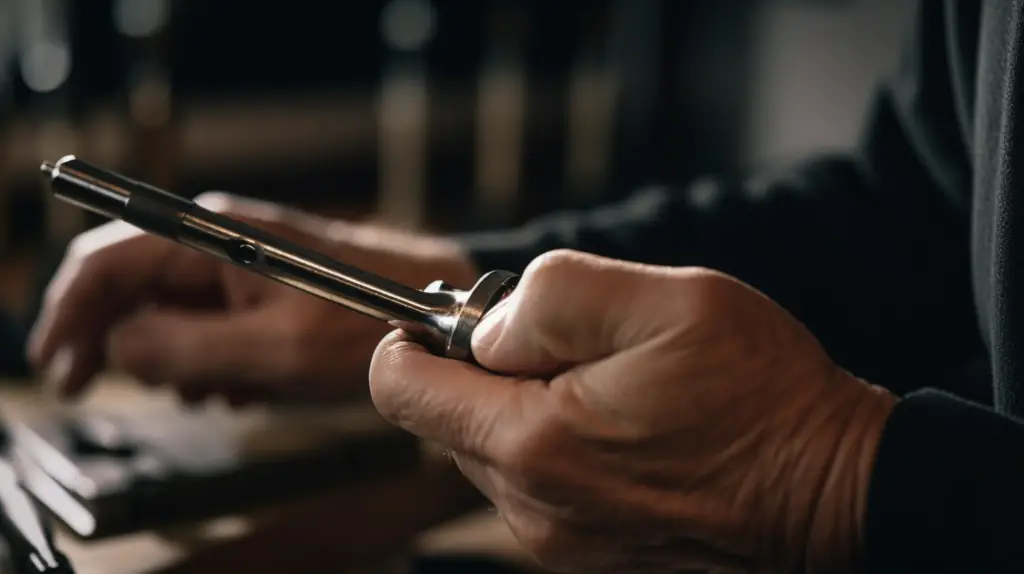 When fitting new clubs with replacement shafts, several tips can help ensure proper installation. It is important to check each club for length, lie angle, and loft changes after replacing the shafts. Additionally, ensuring a consistent swing weight across all clubs will improve consistency in swings from one shot to another. Lastly, checking for balanced grip pressure between thumbs and fingers during practice swings or on-course play will further enhance accuracy and confidence in shots taken with newly fitted shafts.
Frequently Asked Questions
Can I Replace Golf Club Shafts Myself?
When considering changing out one's own golf club shafts, there are several factors to consider. For starters, having knowledge of how to properly remove and install new equipment is essential; without this skill set, attempting DIY replacements may be difficult and lead to damaging results. Additionally, purchasing compatible parts is necessary; since not all brands offer universal sizes and designs that work across different models of clubs, research into finding ones with the appropriate specifications must be done prior to beginning any project. Moreover, access to specialised tools such as torque wrenches may also be required if the individual wishes to complete the task correctly and achieve optimum performance from the newly installed parts.
Overall, depending on how comfortable someone feels tackling complex projects such as these should determine whether replacing golf club shafts by oneself is feasible or not. With sufficient knowledge regarding proper installation procedures and adequate resources available for purchase, DIY replacement could prove successful; however, this option does require significant caution due to diligence before embarking on any endeavours related to golf club replacement.
Are There Any Special Tools Needed to Replace a Golf Club Shaft?
When replacing a golf club shaft, special tools are often needed. These special tools can help to properly secure the new shaft in place and ensure that it is fitted correctly for optimal performance. Club shaft replacement requires precision and accuracy, which is why having the right equipment available is essential.
Golf club shaft tools vary depending on the type of shaft being replaced. Most professional golfers have access to more specialised tools than what would be found at a local sporting goods store or hardware store. Golf shaft replacement tools may include wrenches, mallets, files, and other items specifically designed for securing the replacement shaft firmly into the hosel. Additionally, these tools will usually also come with instructions tailored towards how to properly use them when installing a new golf club shaft.
Conclusion
Replacing a golf club shaft can be an important part of maintaining the performance and usability of any golfer's set. It is important to understand the costs associated with having a professional replace a golf club shaft, as well as what tools may be required when attempting to do it yourself. Knowing the differences between graphite and steel shafts can also help determine which type will work best for each individual's needs. Lastly, taking certain safety precautions while replacing a golf club shaft can help ensure that the task is completed safely and successfully. In conclusion, understanding how much it costs to replace a golf club shaft, gathering necessary materials and tools, knowing the difference between graphite and steel shafts, and following appropriate safety protocols are all essential steps in replacing a golf club shaft correctly. Taking these steps into consideration can make sure that anyone's golf clubs stay up-to-date and ready for use on the course whenever they need them.