Last Updated on May 31, 2023
Golf is a great way to spend an afternoon, but how much does it cost? That's the question many people ask when considering playing a round of golf. The answer can vary greatly depending on where you play and what kind of membership or discounts are available. A typical round of golf in the UK can cost anywhere between £50-£100. However, discounts and memberships may help you get better value. However, there are still ways to enjoy a game of golf without breaking the bank. Read our blog post below for tips on getting better value from your next game and learn about different types of golf clubs and their associated fees.
Table of Contents:
The Cost of a Round of Golf in the UK
Golfing in the UK is a popular leisure activity, yet it can be costly. The cost of a round of golf varies depending on where you play and what kind of equipment you use. Here's an overview of what to expect when playing golf in the UK.
Green Fees
Golfing fees can be pricey, varying from £20-£60 at public courses and even reaching as high as £100 or more for exclusive ones. Some courses offer discounts for seniors, juniors, students or memberships, which can help bring down costs significantly.
Equipment Rental
If you don't have your own clubs and bag, then renting them will add to your overall cost. Most clubs charge around £15-£25 for rental clubs and bags per day, although some may offer discounted rates if you rent multiple days at once or join their loyalty program.
Other Costs
Other associated costs include things like balls (usually around £2-3 per sleeve), tees (£1-2 each), as well as food & drinks before/after your round, which vary greatly depending on where you go (pubs are usually cheaper than restaurants). There may also be additional charges such as buggy hire (£10-30) or range tokens (£5+) if applicable, so make sure to check with the club beforehand.
In conclusion, while there is no one set price tag that comes with a game of golf in the UK, understanding all the associated costs can help keep your expenses under control – saving yourself money while still enjoying a great day out on the course.
The cost of golf in the UK can be significantly disparate, contingent on location and time; thus, it is essential to investigate before playing. Despite this variation, however, there are certain factors that influence the price, such as course difficulty and amenities offered. In order to better understand these elements which affect pricing for a round of golf, let's take a closer look at how golf course prices vary across the country.
Key Takeaway: A round of golf in the UK can cost anywhere from £20-£100, depending on green fees, equipment rental and other associated costs. However, with some savvy budgeting and taking advantage of discounts available at courses, you can still enjoy a great day out without breaking the bank.
Golf Course Prices Vary
The cost of a round of golf is dependent on various factors, such as location and time. Prices can vary greatly depending on where you play and when. Some courses charge more for weekend rounds than weekday ones, while others might have special deals for twilight tee times or offer discounts for seniors or juniors. It pays to shop around and compare prices before you book your next game.
Location is also an important factor in determining how much you'll pay. Courses in larger urban settings often come with a steeper cost than those situated in rural or more secluded places – yet that doesn't always mean they offer superior quality. Do some research online to get an idea of what kind of fees different courses are charging so you can make an informed decision about where to play.
The type of course matters too, championship courses with lots of amenities will typically be more expensive than municipal ones without as many bells and whistles. If money is tight, consider playing at a public course rather than a private club; it could save you quite a bit in green fees.
Membership options are another way to cut costs if golfing is something you do regularly. Many clubs offer annual memberships that come with discounted rates on greens fees and other perks like free access to practice facilities or pro shop discounts – all great ways to save money over time.
Finally, don't forget about loyalty programs offered by various companies, such as GolfNow Rewards or TeeOff Deals which provide exclusive offers on tee times at select locations throughout the UK. These can be great ways to save money over time and are definitely worth checking out if saving money is your goal.
Golfing fees can differ substantially depending on where, when and in what season you play. To ensure you get the best value for your money, researching potential courses is a must when planning a round of golf. To save money on your next round, it pays to be aware of discounts and special offers that are available at many courses.
Key Takeaway: By comparing prices and taking advantage of discounts, you can ensure that your golf game won't break the bank. Research the fees various courses charge to get great value for your money.
Save Money on Your Next Round
Golf can be pricey, yet there are still means to cut costs on your next outing. To maximise your savings, here are some helpful strategies to consider when planning your next golf outing.
1. Shop Around – Before booking a tee time, do some research online or ask around at golf clubs in the area to find out what kind of deals they offer. Many courses have discounts for senior citizens or students, so make sure you take advantage of those if applicable. You may even be able to find discounted rates during certain times of day or weekdays when fewer people play.
2. Buy Used Clubs & Equipment – Instead of spending hundreds (or thousands) on brand-new clubs and equipment, consider buying used items from eBay or secondhand stores like Play It Again Sports. You can find great deals on quality used clubs and equipment by shopping at secondhand stores or online.
3. Bring Your Own Snacks & Drinks – Most golf courses will charge you extra for food and drinks while you're playing, so bring along snacks and beverages from home instead. If possible, pack a cooler with sandwiches, fruit slices, energy bars etc., as well as bottled water or other non-alcoholic beverages that won't weigh down your bag too much while walking the course.
4. Rent a Cart Instead of Using a Caddy – If you don't want to lug around heavy bags all day long, then renting a cart might be the best option for you. Not only will this save your back from strain, but also it'll cost less than hiring someone else to carry them – especially if there's more than one person playing together. Plus, carts come equipped with GPS systems, which can help improve accuracy by showing yardage distances between each hole on the course map display screen, making club selection easier too.
5. Look for Coupons and Discounts Online – there are often coupons available online for various golf courses throughout UK cities and towns. Check out the potential bargains to be had – you could get anything from a reduction of 10% on your green fees up to half-price. Always check ahead before committing yourself financially somewhere else without looking into potential savings first.
To save money on your next round of golf, consider buying pre-owned clubs or looking for discounted green fees. Additionally, research the different membership options available to you and their associated costs before signing up for a club.
Key Takeaway: To save money on a round of golf, do your research for discounted rates and coupons online. Look into buying used equipment to cut costs and bring snacks from home instead of paying extra for food or drinks at the course. Renting a cart rather than hiring someone else can also help you pocket some cash.
Golf Clubs & Membership Fees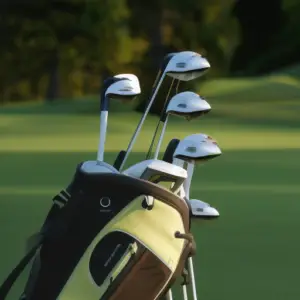 Golf clubs and membership fees vary greatly across the UK, depending on the quality of course, location, and amenities offered. While some courses may charge an upfront fee to join as a member, many others offer discounted rates for those who commit to playing regularly.
If you are looking for a first-rate golf club in London, The Grove Golf Club could be a perfect choice, with its memberships beginning at £3200 annually. This fee includes access to all their world-class golfing facilities, including an 18-hole championship course designed by Kyle Phillips and two practice areas, plus discounts on green fees and pro shop purchases.
For those with a more restricted budget, Saffron Walden Golf Club in Essex offers memberships from just £365 per annum – an absolute steal. With this membership, golfers can tee off on the picturesque parkland course as many times as they wish throughout the year without paying extra and even receive discounts at the clubhouse restaurant. Furthermore, during certain hours of the day, access to their driving range is also included.
Another great option is Bude & North Cornwall Golf Club, located in North Cornwall, which charges only £350 per annum with no additional green fees or hidden costs – ideal for anyone who loves getting out onto the fairways without breaking the bank. As part of your membership here, you can enjoy free use of their practice area and discounted rates when booking tee times at any time throughout the week (subject to availability).
When it comes to securing a great bargain on golf club fees, there is certainly something available that can meet everyone's needs – so don't miss out and take advantage of these savings before they're gone. Whether you're after top-of-the-line amenities or just want somewhere cheap where you can hit balls every now and again, do your research first before signing up anywhere so that you know exactly what kind of value each club offers its members.
Key Takeaway: No matter your financial situation, golfers have a wide range of choices available to them. From The Grove Golf Club in London, offering memberships starting at £3200 per year, to Bude & North Cornwall Golf Club's bargain rate of just £350 per annum – you're sure to find something that fits the bill. Do your due diligence and shop around before signing up anywhere so you get the best bang for your buck.
FAQs in Relation to How Much Is a Round of Golf
How much does a round of golf typically cost?
Generally, weekday rounds are cheaper than weekend ones, while peak times such as evenings or weekends will be more expensive. Prices can range from £15 to over £100 per person for 18 holes. Most courses offer discounts for juniors, seniors and memberships, which can help reduce costs significantly. Prior to reserving a golf time slot, it is essential to investigate nearby courses and their pricing plans in order to get the most bang for your buck.
What is a full round of golf?
A full round of golf is a set of 18 holes, usually played in order. It can be completed either by walking or riding in a cart and requires the use of various clubs to hit the ball from tee to green. Every hole poses its own particular obstacles to be conquered before continuing onward. The objective is to finish all eighteen holes with the least number of strokes while avoiding any potential risks like water, bunkers, foliage and uneven surfaces. A scorecard should always be kept track of during play so that players know their progress throughout the round.
Is a round of golf 18 holes?
Yes, a round of golf is typically 18 holes. This has been the standard since Scotland adopted the rule in 1764. The game consists of playing each hole in succession until all 18 are completed and then counting up your total score for the entire round. Professional players may sometimes play more than 18 holes to complete their rounds, depending on tournament rules or weather conditions.
Conclusion
Golfing is a good option for physical activity and leisure, yet it can be costly. Depending on the golf course you choose, prices for a round of golf in the UK can vary greatly. However, there are plenty of ways to save money when playing, such as joining local clubs or taking advantage of discounted rates. With some research and planning ahead, you may find that much is not necessarily required to enjoy a round of golf.