Last Updated on June 4, 2023
Are you considering taking up golf, but wondering how much a golf membership costs? Look no further. We'll investigate the various kinds of memberships and their costs, so you can make an educated decision. You may be surprised to learn about all the benefits becoming a member offers, too – let's take a closer look at what makes joining worth it in terms of cost and convenience. So if you're curious as to how much is a golf membership, read on for more information.
Table of Contents:
Uncovering the Cost of Golf Membership
Although golf memberships in the UK can be pricey, there are ways to keep costs down. Golf club memberships can range significantly in price, contingent on the type of subscription desired and which facility is picked.
The most common types of golf memberships include full playing rights, country club or limited access memberships, and corporate or guest passes. Full playing rights offer unlimited access to the course with no restrictions on when you can play. This type of membership is usually more expensive than other options as it includes all privileges associated with being a member of that particular club. Country clubs typically provide discounted rates for their members, while limited access memberships may require additional fees for certain amenities such as cart rental or practice range usage. Corporate and guest passes are available at some courses and provide discounts to those who work in specific industries or are visiting from out-of-town guests.
Before signing up, take into consideration several factors such as initiation fees, monthly dues (which may vary depending on the package you choose), green fees for non-members, cart rentals (if applicable) and any additional costs associated with special events like tournaments or lessons. Additionally, some clubs offer different levels of membership based on age groups, so be sure to inquire about these options if they are available – seniors often get a break in terms of pricing. Furthermore, an annual fee may also be charged by certain clubs for maintenance purposes; make sure to look into this before committing.
Grasping the cost of a golf club membership is essential when choosing if it's suitable for you – don't let price shock put you off from enjoying this amazing game. With careful research and comparison shopping between various courses in your area, finding an affordable option shouldn't be too difficult. So go ahead – take a swing at becoming a golfer today.
Uncovering the cost of golf membership can be a daunting task for many, but with some research and patience, you can find the right fit for your budget. Investigating the varied kinds of golf memberships is essential for identifying what best suits your needs.
Key Takeaway: Golf membership can be a costly investment, but it doesn't have to break the bank. With careful research and comparison shopping between different courses in your area, you'll soon find an affordable option that won't leave you with sticker shock – so take a swing at becoming a golfer today.
Exploring Different Types of Golf Memberships
To ensure you get the right golf membership for your needs, it's important to understand the various types available. From country clubs to public courses, there are plenty of options for those looking to join a golf club.
Country clubs typically come with a hefty price tag due to their exclusive status and availability of luxuries like spas and gourmet dining. The average annual fee for a country club membership can range anywhere from $2,000-$15,000, depending on the location and prestige of the club. It's also common for some clubs to require an initiation fee or assessment upon joining, which could add thousands more to your total costs.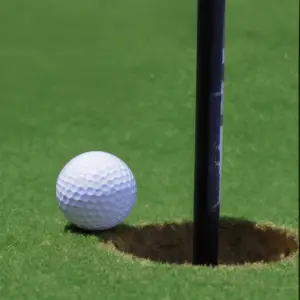 If you're looking for something a bit more affordable than a country club membership, then consider checking out semi-private courses instead. These usually have lower fees compared with private courses but still offer access to quality greens as well as other perks such as pro shops and lessons from PGA pros. Fees for semi-private courses tend to be in the ballpark of $500-$1,200 annually, varying by location.
For those who don't want any kind of long-term commitment, then daily passes may be just what you need. Most public golf courses will offer day rates that allow you to pay one price per round without having to worry about monthly dues or yearly contracts – making them perfect if you only plan on occasionally playing throughout the year or while travelling away from home. Prices vary widely based on the time of day/week but generally expect around $20-$50 dollars per round at most public places (sometimes even less).
Finally, we have multi-course memberships, which provide access to multiple golf facilities within certain regions at discounted prices compared with paying individually each time they play at each facility – making them great value if you're someone who likes variety when playing rounds. Fees here depend largely on how many courses are included in your package, but often times these deals can save hundreds of regular green fees over the course of a season so it is definitely worth considering if budget is an issue.
Investigating the various golf club membership options can be a great way to discover one that suits your needs and financial situation. Examining the advantages of being a golf member may be advantageous to those seeking an ideal fit for their lifestyle and finances.
Key Takeaway: Golf memberships come in a variety of shapes and sizes, ranging from country clubs to public courses. Prices may differ depending on the membership option selected; however, there are some great deals to be found for those seeking a good golfing experience without breaking the bank.
The Benefits of Becoming a Golf Member
Becoming a golf member can be an expensive investment, but it's well worth the money. There are several different types of memberships available to suit any budget and lifestyle. Here we will explore the benefits of becoming a golf member so you can decide if it's right for you.
One major benefit of being a golf member is access to exclusive courses and discounts on green fees at other courses. As a golfer, you want to play the best courses around and having access as part of your membership makes this possible without breaking the bank. Many clubs also offer discounted rates for guests who accompany their members on rounds, making playing with friends more affordable than ever before.
Another advantage is improved course knowledge which leads to better scores over time. Playing regularly at one or two clubs gives players insight into how each hole plays differently in various conditions – wind direction, pin placements etc., allowing them to make smarter decisions during their rounds. This improved course knowledge translates directly into lower scores and greater enjoyment from every game played.
With membership comes an array of extra perks, such as practice facilities (driving range/putting green) to help members sharpen their skills between rounds; pro shops where they can pick up the latest and greatest in golf equipment; dining areas for socialising after a game; tournaments throughout the year that offer unbeatable competition – all this on top of getting out onto the fairways more often. 
Finally, becoming a member shows commitment to not only yourself but also to your local club too – something that is always appreciated by those running it day-to-day. It may even open up opportunities for volunteering or taking part in committees within your club – another great way to get involved in something you love while giving back at the same time.
Key Takeaway: Joining a golf club is an investment that pays off in spades, as members gain access to exclusive courses and discounts on green fees at other clubs. Not only does membership bring improved course knowledge for better scores over time, but it also comes with extra perks such as practice facilities, pro shops and tournaments – all great ways to sharpen your skills while socialising after a game.
Conclusion
Golf memberships can be a worthwhile investment for those looking to take up the sport and make new acquaintances, yet it is essential to understand what they may cost. With different types of golf membership available, there is something for everyone – from beginners to experienced players. Carrying out thorough research into the different types of golf membership available will ensure you find the one that best fits your needs. In the end, by being aware of how much a golf membership in the UK costs, you can enjoy all that this remarkable sport has to offer.