Last Updated on December 4, 2023
As a seasoned expert in golf technology, I understand the unique charm of blending a peaceful round of golf with your favorite tunes or podcasts. Golf speakers, specifically designed for the course, offer this blend of entertainment and practicality. In this concise guide, backed by extensive research and testing, I'll help you navigate the key features of golf speakers—sound quality, durability, and convenience—to enhance your golfing experience with the perfect audio companion.
Our Top Choices
I have curated a list of the best golf speakers available on the market for you to improve your golf experience. These high-quality speakers provide superb sound and unique features that make them perfect companions on the course.
The Bushnell Golf Wingman View GPS Speaker is an excellent investment for golfers seeking a reliable, versatile, and easy-to-use golf speaker.
Pros
Outstanding sound quality
Easy-to-read LCD screen
Viewable hazard distances
Cons
Some find it complicated to start
Inconsistent GPS transitioning between holes
Limited weekend customer support
I recently had the pleasure of using the Bushnell Golf Wingman View GPS Speaker, and the sound quality genuinely impressed me. The music played crisply and clearly, ensuring an enjoyable experience on the golf course. The easy-to-read LCD screen provided real-time distance and music information, making it convenient to use while playing.
The Wingman View's audible callouts and viewable hazard distances were beneficial in guiding me through the course, offering up to six hazard distances per hole. The device's front, center, and back readings were visually displayed, while the audible readings made it easy to plan my shots.
The Integrated BITE magnetic cart mount was another great addition, allowing for easy attachment to the cart bar. However, I did experience some difficulty in starting the device, which could be frustrating for some users. Additionally, the GPS transition between holes was sometimes inconsistent, causing minor confusion at times.
The limited weekend customer support was a downside, particularly considering that golf is often played on weekends. Overall, despite these minor drawbacks, the Bushnell Golf Wingman View GPS Speaker's performance outweighs its cons. Its impressive sound quality, informative display, and helpful course insights make it a top product for golf enthusiasts who want to enjoy their favorite tunes and enhance their gameplay.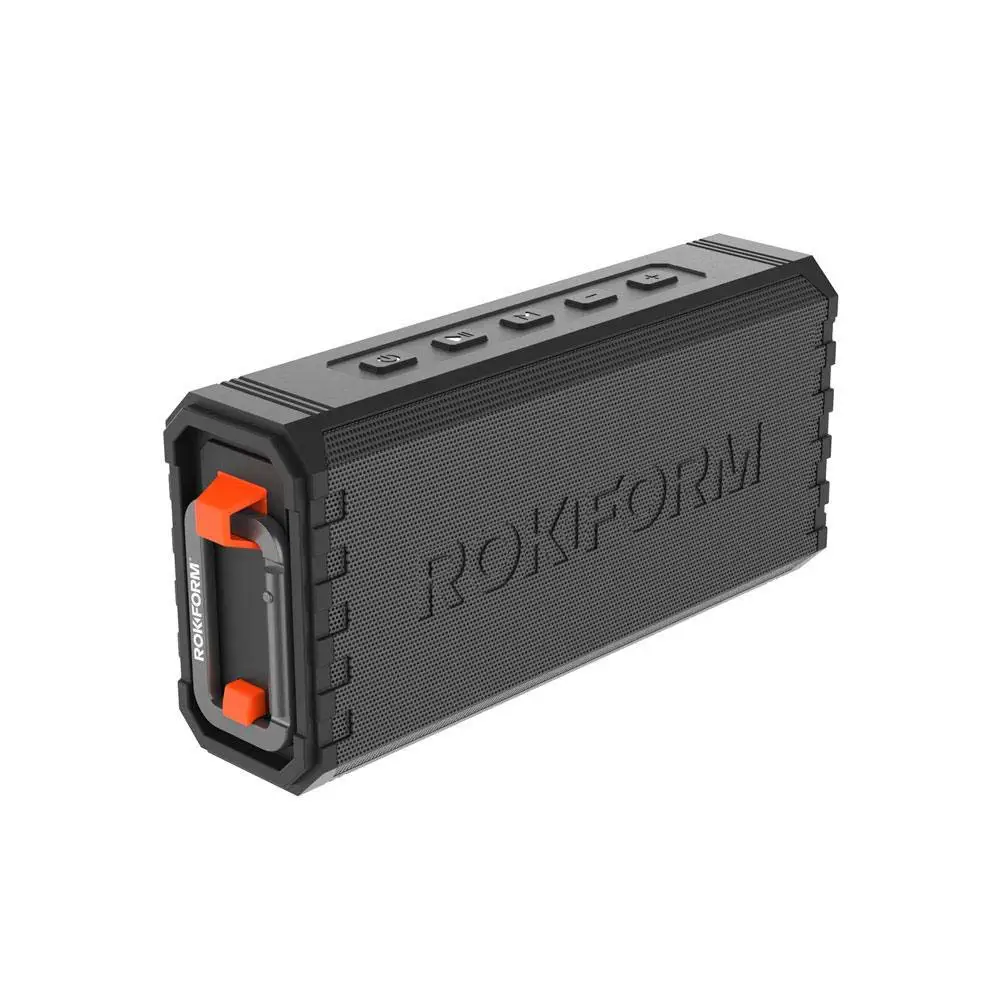 The Rokform G-ROK is an ideal golf speaker for its impressive durability, sound quality, and convenience.
Pros
Magnetic mounting for easy attachment
IPX7 waterproof and dustproof
24-hour battery life
Cons
Heavier than some competitors
May not be loud enough for some users
Only 8 watts speaker output
I recently used the Rokform G-ROK Portable Golf Speaker during a round of golf and was pleasantly surprised by its seamless integration into my game. The built-in magnetic mount made attaching the speaker to the golf cart effortless, ensuring constant entertainment throughout my game.
The sound quality of the G-ROK was outstanding, delivering crisp and clear audio even at full volume. Its IPX7 waterproof rating provided peace of mind, knowing that it can withstand any weather conditions on the golf course.
The 24-hour battery life was another remarkable feature of the G-ROK. I played a full day without needing to recharge the speaker, which was perfect for my long golf session.
While the Rokform G-ROK is an excellent portable golf speaker, it isn't perfect. I found the speaker to be slightly heavier than its competitors. Additionally, the 8 watts output might be insufficient for some users who prefer louder audio. However, these drawbacks didn't impact my overall experience with the speaker.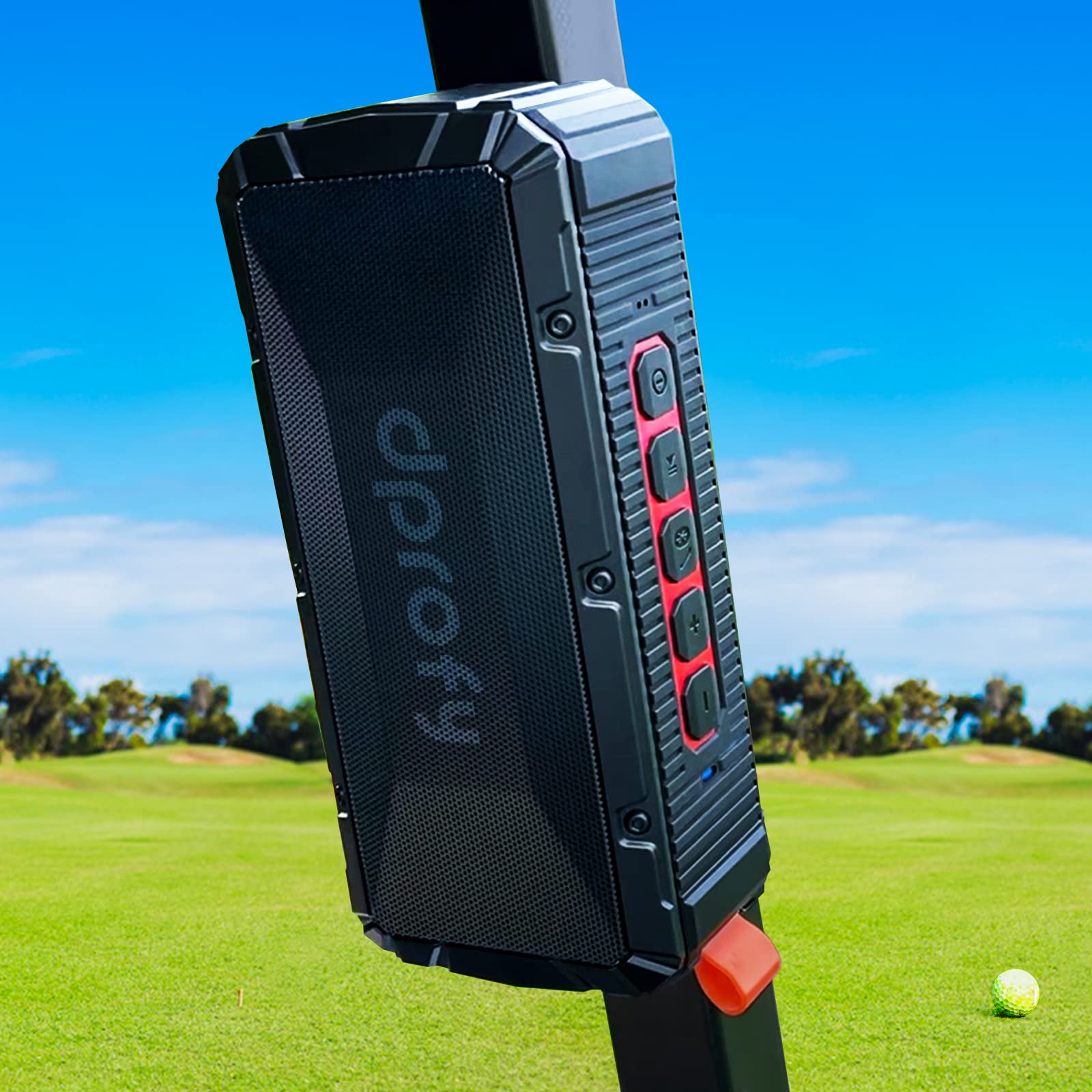 The Dprofy Pro Portable Magnetic Bluetooth Golf Speaker is a solid choice for those seeking convenience and quality sound on the golf course.
Pros
Instant installation with built-in super-strong magnets
Bluetooth 5.3 and SD card function
IPX6 Waterproof and Dustproof
Cons
Charging cable not USB
Takes 1.5 hours for a full charge
Sound may not be loud enough for some users
I recently took the Dprofy Pro Portable Magnetic Bluetooth Golf Speaker for a spin on the golf course, and I found it incredibly easy to install on the golf cart. The super-strong magnets ensured that the speaker stayed put, even when going over bumpy terrain. Connecting my phone to the speaker was a breeze, thanks to the updated Bluetooth 5.3 technology. I also appreciated the SD card functionality, allowing me to play music without even needing my phone.
The IPX6 waterproof and dustproof rating is perfect for those unpredictable days on the course. I didn't have to worry about it getting damaged in the rain or dusty terrain. The stereo sound quality is impressive for its size, and the 24-hour playtime meant that there was no need for constant charging.
One downside I noticed is that it doesn't come with a USB charging cable, which may be inconvenient for some users. Also, it takes about 1.5 hours for a full charge, which might be an issue for those who are short on time. Some users have mentioned that the sound isn't loud enough for their preference. However, I found the volume to be more than adequate for my needs.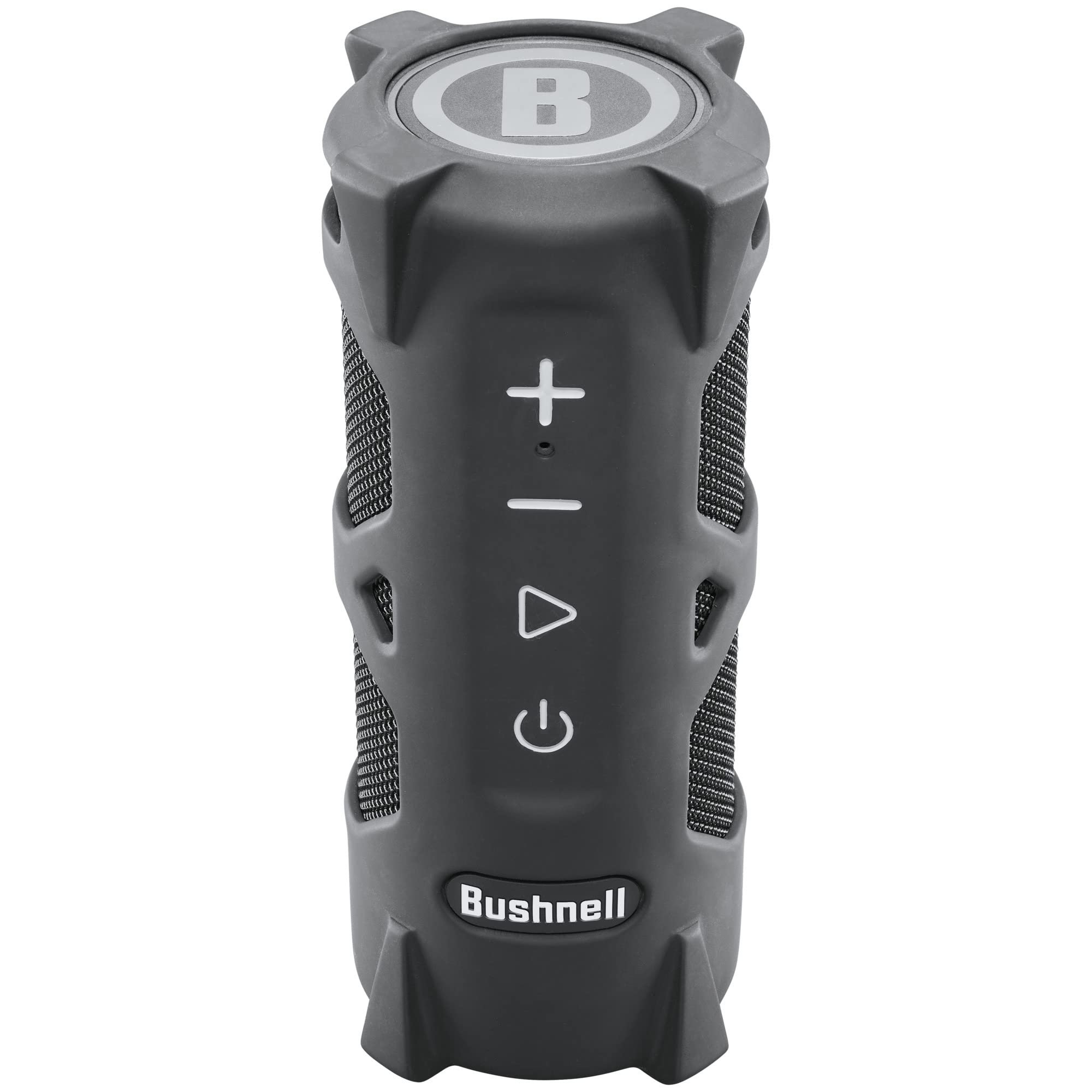 The Bushnell Outdoorsman Bluetooth Speaker is a solid choice for avid golfers due to its durability, magnetic mount, and rugged design.
Pros
Waterproof and rugged design
Strong magnetic mount
Impressive battery life
Cons
Sound quality could be better
Somewhat bulky
May not be loud enough for some users
I recently had the chance to use the Bushnell Outdoorsman Bluetooth Speaker on my golf cart, and was quite pleased with its performance. The rugged rubber armor provided excellent protection, and the included Bite Magnetic Mount made attaching the speaker to the cart a breeze.
In terms of sound quality, the Outdoorsman produced decent audio, though it may not be loud enough for some users. However, I found the volume sufficient for my needs on the golf course. What impressed me most was the battery life – it lasted throughout my entire round of golf and even had some juice left over.
One downside to the Bushnell Outdoorsman is its bulkiness. Fitting it into the pocket of my golf bag proved to be a bit of a challenge. However, this is a small trade-off considering the overall durability and convenience the speaker provides.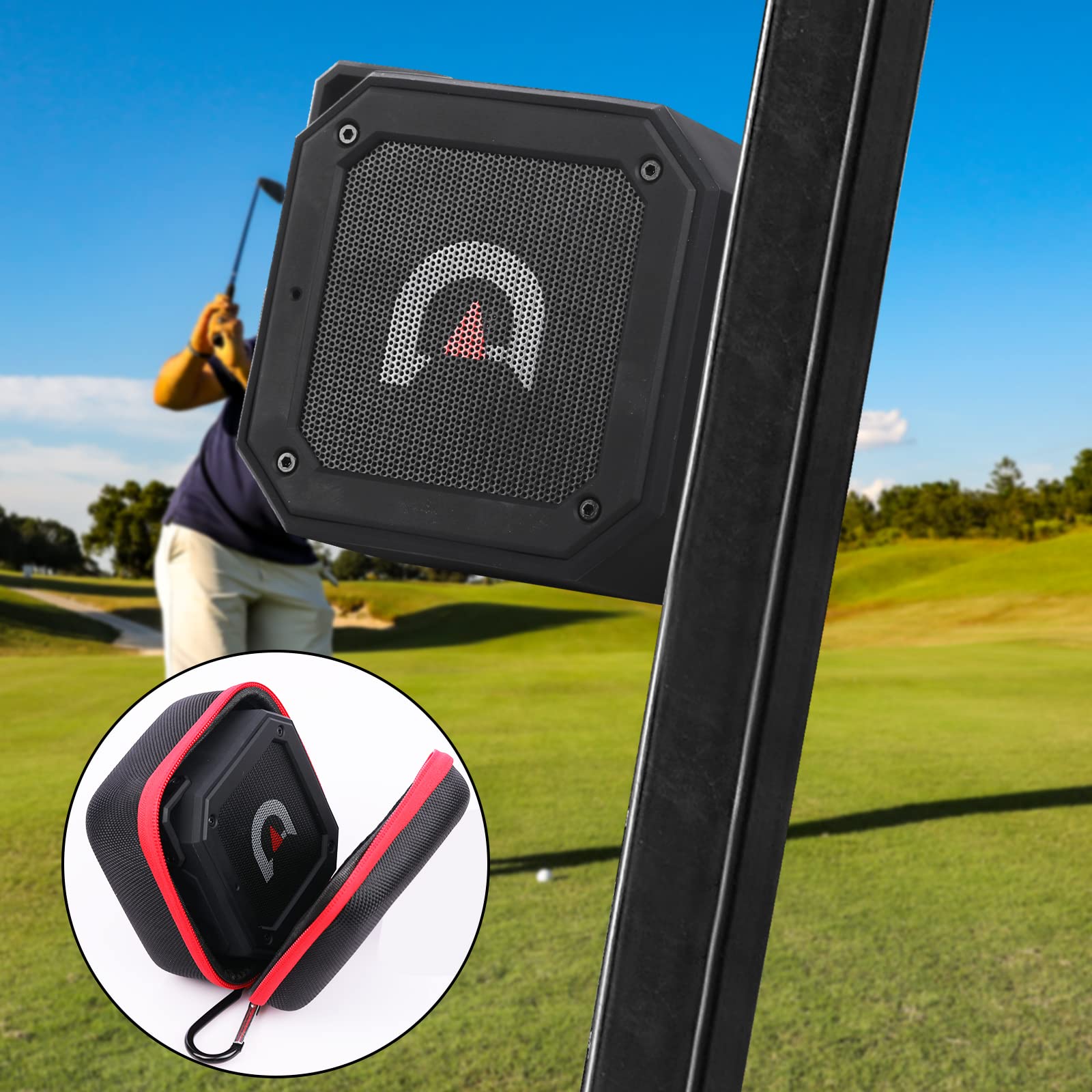 The ACHIX Bluetooth Golf Cart Speaker is a great addition for golf enthusiasts with impressive sound quality and a strong magnet.
Pros
Powerful magnetic attachment
Extended Bluetooth range
Waterproof and shock resistant
Cons
Limited bass response
Not the loudest speaker
Battery life shorter at higher volume
I recently tested this ACHIX Bluetooth Golf Cart Speaker and found it to be a versatile accessory for golf and outdoor activities. The powerful magnet made it incredibly easy to attach to the golf cart, without worrying about it falling off on rough terrains. I also used it on my hiking backpack, as well as in the kitchen while cooking.
The extended Bluetooth range (up to 100ft in open areas) allowed me to sync the speaker with my smartphone quickly. I could control the music from a distance without any interruptions. At 50% volume, the battery lasted for 20 hours, but at a higher 70% volume, it lasted only for 12 hours.
The speaker's waterproof and shockproof design is a plus, especially when playing in unpredictable weather conditions or during off-road adventures. However, I noticed that the bass response was not as strong as I'd like, and the overall sound could be louder.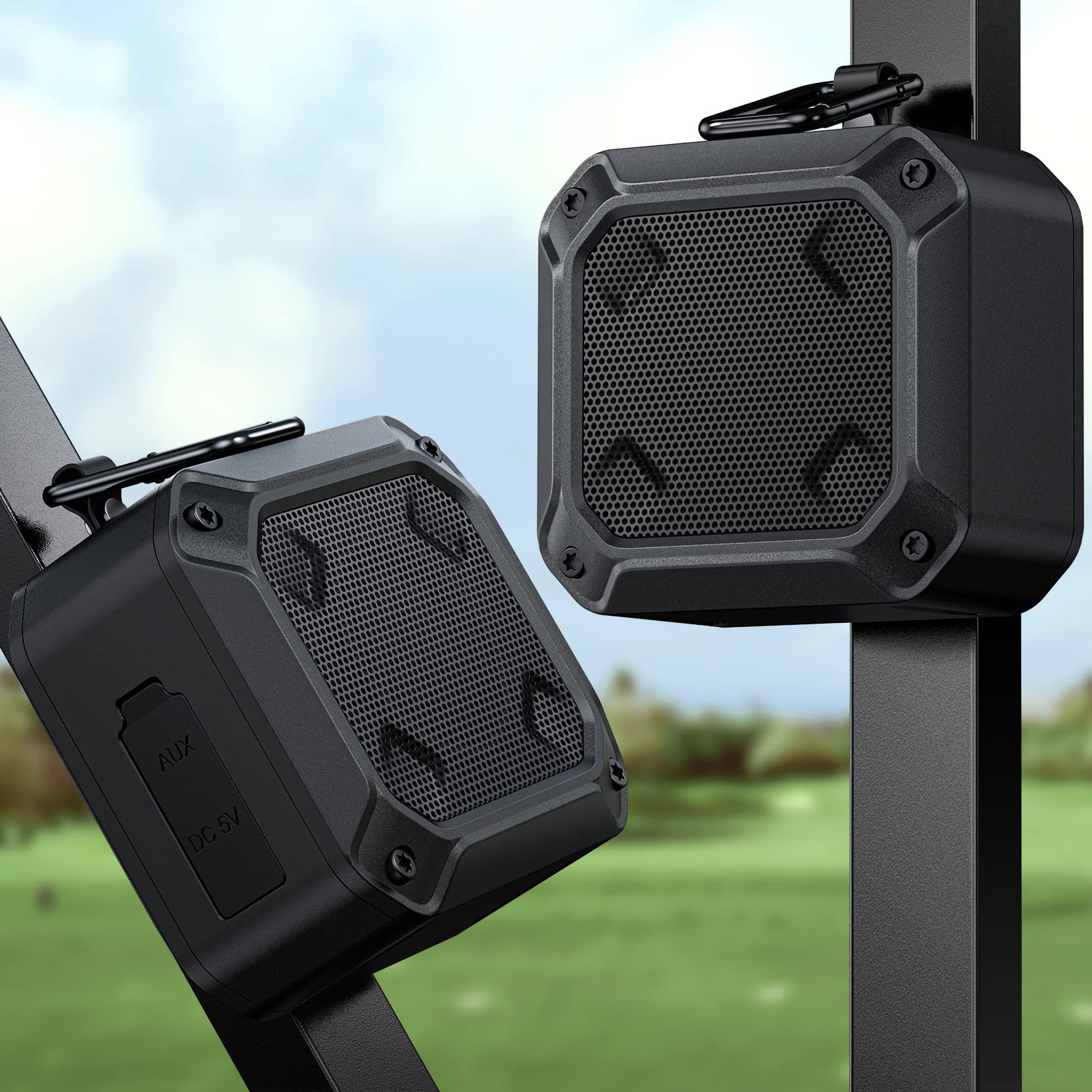 The CHIFENCHY Golf Speaker is a fantastic choice for golf enthusiasts looking for a portable and feature-packed speaker to enhance their on-course experience.
Pros
Portable and easy to attach to golf carts, bags, and other surfaces
Exceptional 24-hour battery life
Stable TWS pairing with impressive 360° stereo sound
Cons
Attaching both speakers simultaneously may be slightly tricky
Needs more than one speaker for 360° sound effect
Requires strict adherence to instructions to maximize features
I recently had the pleasure of using the CHIFENCHY Golf Speaker during a round of golf and was genuinely impressed with its performance. Its compact size and built-in magnet made it incredibly easy to attach it to my golf cart and bag. The detachable hook also proved convenient for securing it to various surfaces during my practice sessions.
The speaker's battery life is exceptional, offering a full 24 hours of playtime on a single charge. I didn't have to worry about running out of battery in the middle of a long tournament, which was a significant relief. Additionally, the Bluetooth 5.3 technology allowed for a fast and stable connection to my devices, so I could easily access my favorite tunes and podcasts while out on the course.
One of the standout features of the CHIFENCHY Golf Speaker is its 360° stereo sound. While I thoroughly enjoyed the sound quality, I did notice that for the full 360° effect, it's necessary to carry two or more speakers. It's not a deal-breaker, but something to keep in mind if you want the best possible audio experience.
The main challenge I encountered with this speaker was connecting both units simultaneously. This process proved tricky at times, but once I followed the instructions carefully, I was able to get them both working together for that immersive audio experience. It requires some patience initially, but the results are well worth the effort.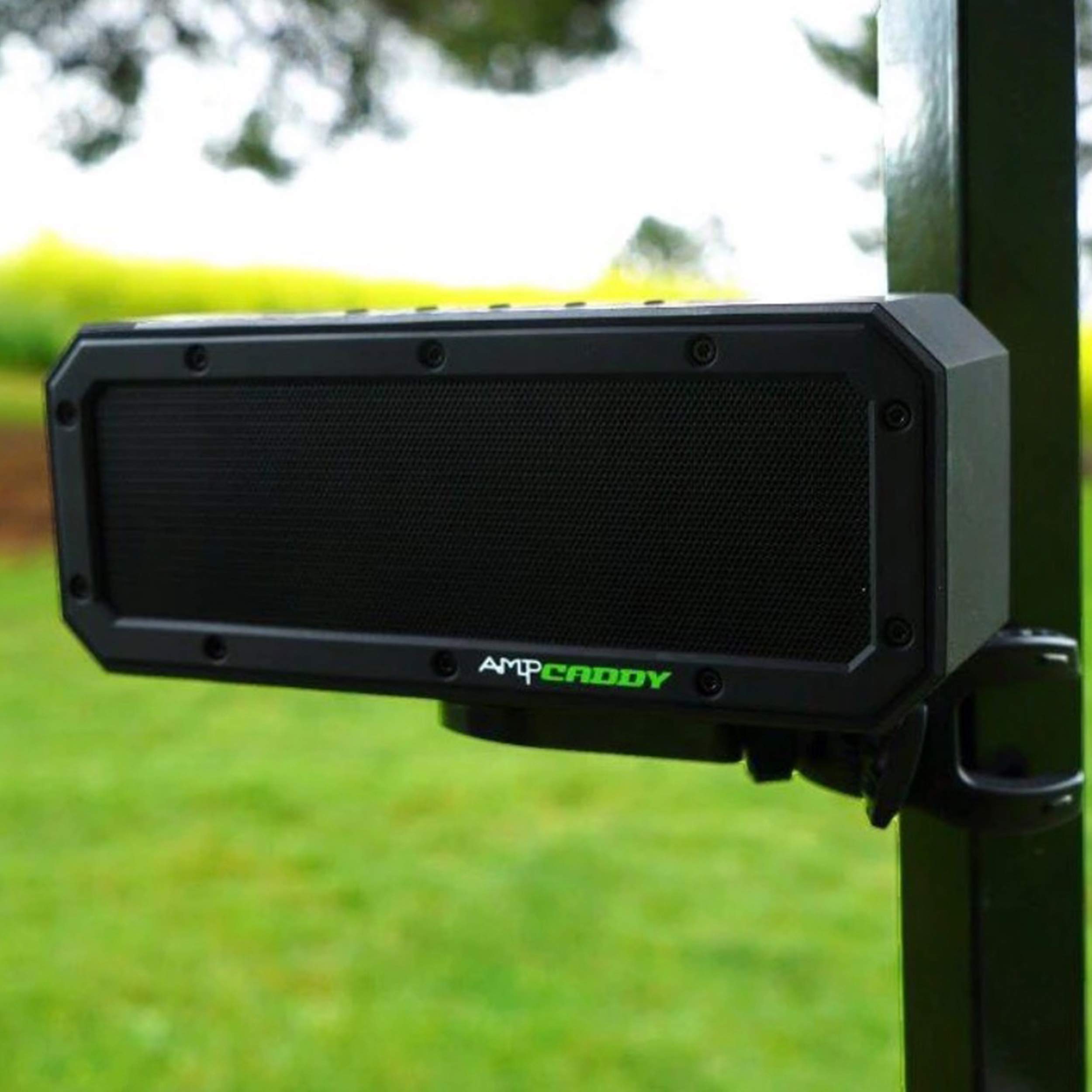 The Ampcaddy Golf Speaker is a fantastic investment for enhanced golfing experiences with powerful sound and secure mounting.
Pros
Impressive sound quality with bass boost
Easy mounting to golf carts and push carts
Long battery life and extended Bluetooth range
Cons
May sag slightly due to weight when mounted
Not the most affordable option
Limited adjustments to the mount
I recently tried the Ampcaddy Golf Speaker during a round on the course, and I was quite impressed with its performance. The 40-watt audio output provided loud, crystal-clear sound, and the bass resonator made my playlist feel more immersive. Having used other portable speakers in the past, I found the Ampcaddy's audio quality to be exceptional for outdoor settings.
Mounting the Ampcaddy speaker onto my golf cart was a breeze, and its compatibility with both golf carts and push carts adds to its versatility. I appreciated the 180° directional audio swivel for adjusting the sound direction, ensuring that it wouldn't disturb fellow golfers. However, I did notice the speaker sagging slightly due to its weight, and I had to readjust it occasionally.
The extended battery life of 12 hours, combined with a 100-foot Bluetooth range, made it simple to connect my phone and enjoy a full day of golf without any interruptions. The waterproof IPX7 certification offered added peace of mind, as I didn't have to worry about it getting damaged in case of sudden rain.
JBL Clip 3 is a perfect companion for golf lovers seeking a compact and waterproof speaker with excellent sound quality.
Pros
Compact design with built-in carabiner
Impressive waterproof performance
Long-lasting battery life
Cons
Maximum output power is just 3.3 watts
No track control on the speaker
Limited noise reduction in noisy environments
As a golf enthusiast, I found the JBL Clip 3 to be an outstanding portable speaker for my golf outings. Its compact and lightweight design, featuring a durable carabiner, allowed me to clip it easily to my golf bag, keeping my hands free.
The JBL Clip 3's waterproofing was a pleasant surprise. It is IPX7 rated, ensuring it's protected even when submerged in water. As a result, I never had to worry about the speaker getting damaged during rainy days on the course.
The battery life of the JBL Clip 3 also impressed me, lasting up to 10 hours on a single charge. This allowed me to enjoy my favorite tunes throughout a full day on the golf course without needing to recharge the speaker.
However, the JBL Clip 3 does come with a few minor drawbacks. The maximum output power of 3.3 watts might not be loud enough for some people, especially in noisy environments. Additionally, the speaker lacks track control buttons, so I had to use my smartphone to change songs, which could be a bit inconvenient. Lastly, although the noise-cancelling speakerphone delivers clear calls, it may struggle in extremely noisy settings.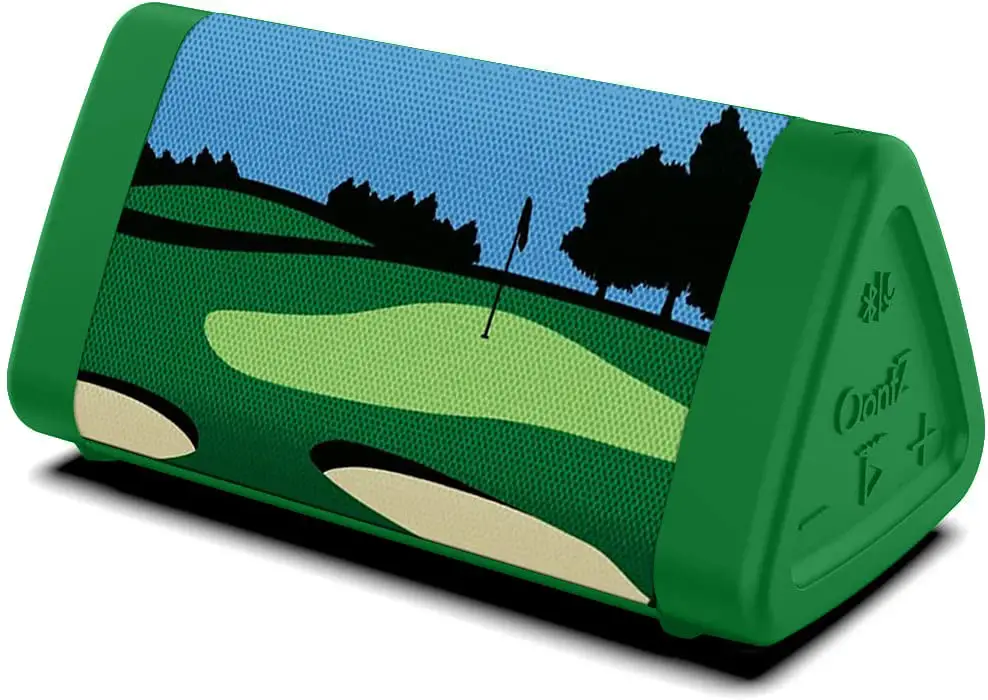 I highly recommend the OontZ Golf-Edition Bluetooth Speaker for its excellent sound quality, durability, and portability on the golf course and beyond.
Pros
Crystal-clear stereo sound
Impressive 100 ft Bluetooth range
Rugged design for outdoor use
Cons
Limited playback volume control
AUX-IN cable not included
Only 14-hour battery life at 2/3 volume
Recently, I used the OontZ Golf-Edition Bluetooth Speaker on a golf outing, and I was amazed by its performance. The unique triangular design not only caught my eye but also contributed to the crystal-clear stereo sound it provided. I could easily enjoy my favorite tunes on the green and immerse myself in the music without any distortions, even at maximum volume.
One aspect that stands out for me is the advanced antenna design and Bluetooth 5.0 technology, which offers a remarkable wireless range of up to 100 ft. I could venture far from my golf bag and still listen to music without any interruptions. Moreover, the rugged and durable design makes it perfect for outdoor enthusiasts like me, as it can withstand rough conditions and environments.
However, there are a few minor drawbacks. The speaker's battery lasts only 14 hours at 2/3 volume, which might not be sufficient for an entire weekend trip. And, if you want to connect non-Bluetooth devices, you will need to buy an additional 3.5mm AUX-IN cable as it's not included in the package. Furthermore, the playback volume control could be better, especially when trying to find the right balance between loudness and sound quality.
Overall, I believe the Cambridge Soundworks OontZ Golf-Edition Bluetooth Speaker is an excellent choice for avid golfers, outdoor adventurers, and music lovers alike. Despite its minor drawbacks, the sound quality, portability, and ruggedness make it a valuable investment.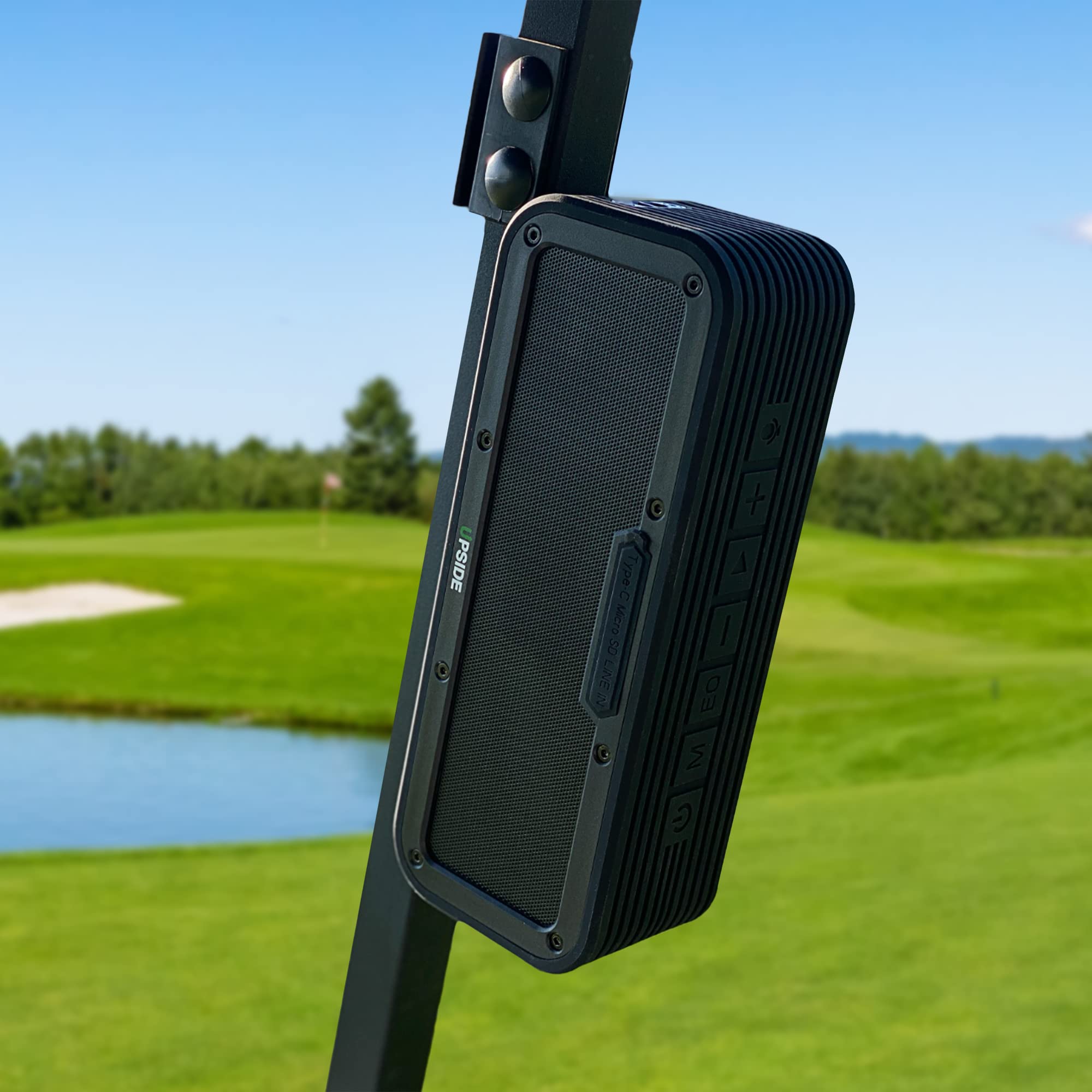 This Upside Golf Magnetic Bluetooth Speaker is the ultimate companion for any golfer seeking high-quality sound and versatile features.
Pros
Impressive 120+ foot Bluetooth range
Magnetic mounting system for secure attachment
Waterproof and durable design
Cons
Slightly heavier at 2 pounds
Requires a metal surface for magnetic attachment
Limited to 12 hours of battery life
When I tried out the Upside Golf Magnetic Bluetooth Speaker, I was amazed by its superior audio quality. The 40-watt speaker delivers crystal clear sound, making it perfect for outdoor use on the golf course, or any adventure.
The magnetic mounting system is a game-changer. I simply attached it to a metal surface on my golf cart, and the powerful built-in magnet held it securely in place. Bluetooth connectivity allowed me to effortlessly play music from my iPhone while focusing on my game.
One downside I noticed is the speaker's weight, which at 2 pounds is slightly heavier than some other portable speakers. However, this doesn't affect its performance, and the magnet ensures it stays put while you play.
Another thing to note is that the magnetic attachment requires a metal surface; otherwise, you'll need to find an alternative way to secure it to your cart. Finally, although the 12-hour battery life is sufficient for most golf outings, you might need to recharge it during extended days on the course.
Buying Guide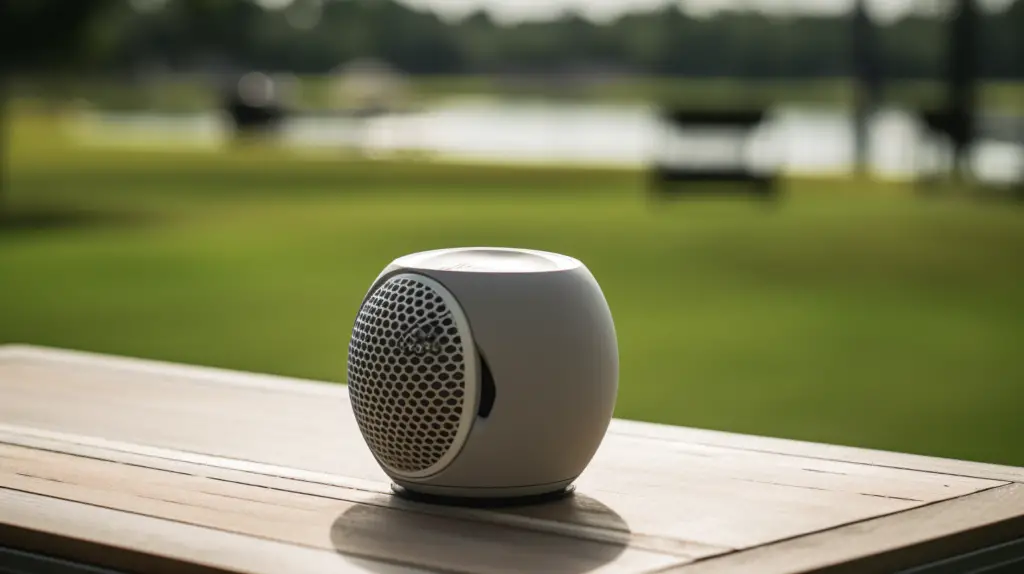 As someone who is passionate about golf, I understand the importance of having a good golf speaker. To help you choose the best product, I am providing a guide to assist you in making an informed decision.
Size and Portability: The first thing to consider is the size and portability of the golf speaker. It is crucial to have a compact and lightweight speaker that can easily be attached to your golf bag or cart, so it doesn't become a burden while you're on the course.
Durability and Weather Resistance: Golf is an outdoor sport, meaning your speaker should be built to withstand different weather conditions. Look for a speaker with a rugged design, water resistance, and dustproof qualities to ensure it can handle a bit of rough handling and wear and tear.
Sound Quality: The main purpose of the golf speaker is, of course, to listen to music or other audio content. Therefore, sound quality is an essential factor to look for when making a purchase. A speaker with solid bass and clear treble will enhance your golfing experience.
Battery Life: Golf rounds can last for hours, and you don't want your speaker to run out of battery in the middle of a game. Make sure to choose a speaker with a long battery life, enabling you to enjoy your music or listen to updates throughout your entire round without having to worry about recharging.
Connectivity: Your golf speaker must be compatible with your devices, such as smartphones and tablets. Check for Bluetooth compatibility, and consider speakers with auxiliary input and USB charging ports for added convenience.
Price: Price is always a factor when making any purchase. When choosing a golf speaker, ensure that it meets your desired features and falls within your budget. Remember, however, that high-quality products might come at a higher cost, so it's essential to balance the price and the features you want.
Keep these factors in mind while you're shopping for a golf speaker, and you'll be on your way to finding the perfect product for your golf outings. Happy shopping!
Frequently Asked Questions
Which Bluetooth speaker is ideal for a golf bag?
In my experience, the best Bluetooth golf speakers for a golf bag are the ones that are compact, lightweight, and easy to attach. These golf speakers offer clear sound quality and are water-resistant, making them suitable for outdoor use on the course.
Which golf speaker offers GPS functionality?
For a golf speaker with GPS functionality, there are options available that come with high-quality audio and built-in GPS functions to provide audible distances to the front, middle, and back of the green. Plus, it has the ability to access over 36,000 golf courses worldwide and provides hole-by-hole layouts on the Bushnell Golf Mobile App.
What are the top options for golf cart sound systems?
When it comes to golf cart sound systems, I think a few excellent options are available. Each of these systems provides a clear and powerful audio experience suitable for your golf cart, offering easy installation and Bluetooth connectivity for streaming your favorite music on the course.
How do JBL golf speakers compare to other brands?
As a popular audio brand, JBL golf speakers tend to perform well compared to other brands. However, it's worth considering other golf speaker brands like Ampcaddy, Bushnell, and Rokform, which offer unique features and benefits tailored to golfers.
Which golf speakers have the highest sound quality?
When it comes to sound quality, I believe that there are top contenders in the golf speaker market. Each of these speakers delivers a powerful, clear, and immersive audio experience suitable for on-course music and are designed to withstand outdoor conditions.
Are Rokform and Bushnell Golf speakers worth the investment?
In my opinion, both Rokform and Bushnell Golf speakers are worth the investment for different reasons. Rokform's G-ROK Portable Golf Speaker is known for its durability, magnetic mounting system, and impressive 24-hour battery life. Meanwhile, Bushnell Golf speakers, like the Wingman, offer the added benefit of GPS functionality, providing valuable on-course information alongside quality audio. Ultimately, your choice depends on your priorities and desired features in a golf speaker.