Last Updated on November 5, 2023
Golf is a popular sport loved by many for its combination of skill, strategy, and enjoyment of nature. A crucial aspect of golf is the golf ball itself, which comes in various colors and designs. Colored golf balls not only add a touch of personality but also serve a practical purpose, making them easier to spot on the course. The right ball can set you apart and improve your performance, which is why we embarked on a quest to find the best colored golf balls for every golfer.
Traditionally, golfers have preferred white balls for the simple reason that they are easily visible against green grass and blue skies. However, advances in technology and design have introduced a plethora of colors, such as yellow, orange, and even pink. These colors not only capture attention on the course but can also prove beneficial in specific situations, like low-light conditions or on grass with varying shades of green.
When selecting colored golf balls, it's essential to pay attention to the overall construction and performance. Factors such as spin, distance, feel, and durability must be taken into account. Additionally, consider the ball's visibility in different environments and lighting conditions. The perfect colored golf ball should be highly visible and able to maintain its appearance over multiple rounds while providing consistent performance.
With the importance of finding the right ball in mind, I dove deep into research and testing to identify the top-performing colored golf balls. Join me as we explore a selection of golf balls, making it simple for you to find the perfect match tailored to your needs and preferences.
Best Colored Golf Balls
I have gathered a list of the best colored golf balls available on the market. Enjoy and find the perfect one for your golfing needs.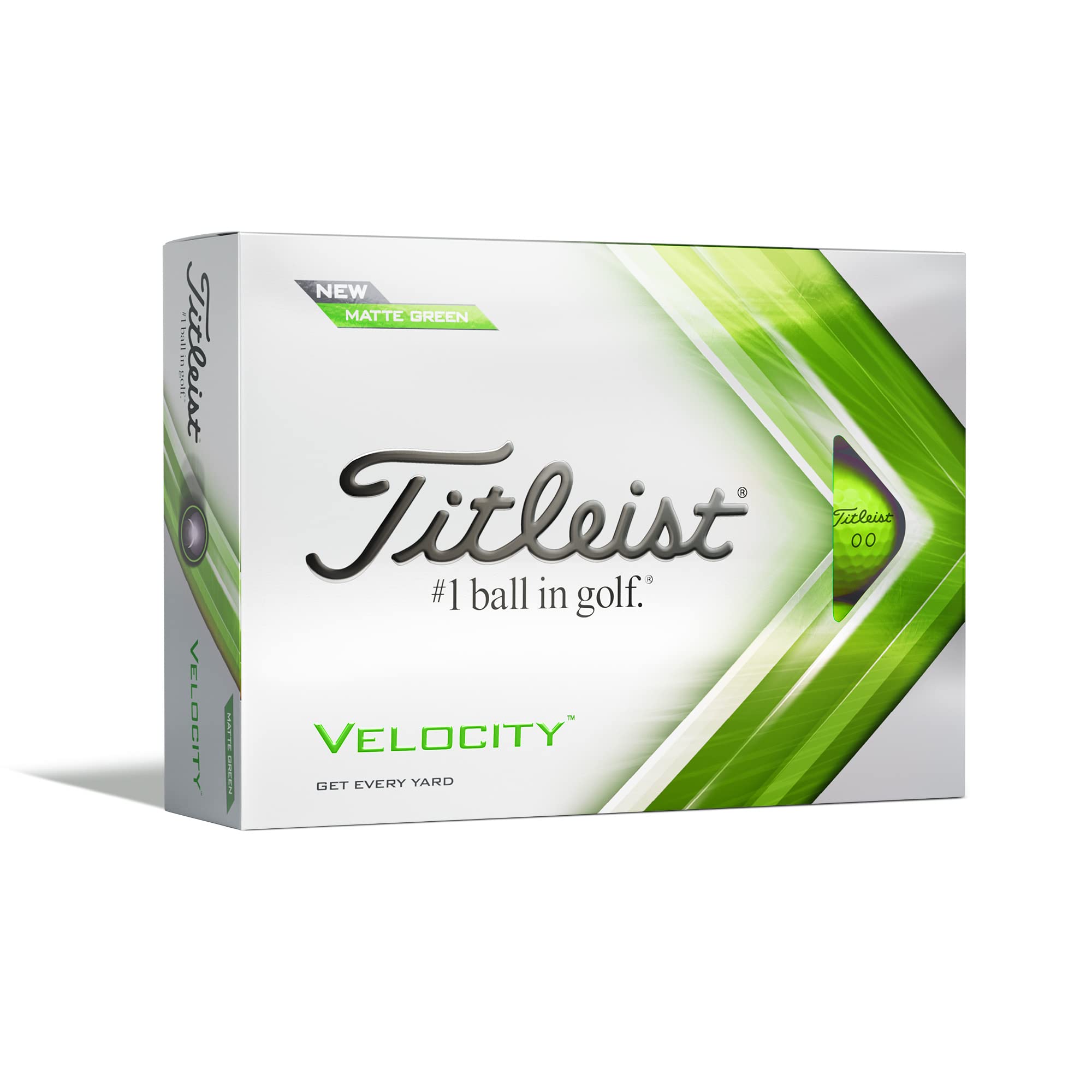 These Titleist Velocity golf balls are perfect for those seeking added distance without sacrificing greenside feel.
Pros
Impressive distance
Low long game spin
High flight on all shots
Cons
Matte green color may not appeal to everyone
Limited spin around greens
Slightly higher price compared to other options
As a golf enthusiast, I recently tried out the Titleist Velocity Golf Balls in Matte Green. From the first tee shot, I was stunned by the sheer distance these balls provided. The high-speed LSX Core and fast NAZ+ Cover work in harmony to deliver an explosive result, which was evident in my drives as well as my long iron shots.
Another aspect I appreciated about these Titleist golf balls was their spherically-tiled 350 Octahedral Dimple Design. This unique feature created a high flight trajectory on all my shots – from drives to approach shots. I found that my balls carried farther and remained stable in various wind conditions.
However, there are a couple of potential drawbacks to consider. While the matte green color is highly visible on the fairway, some golfers may prefer a more traditional white or other colored balls. Additionally, the low long game spin, which contributes to the balls' impressive distance, could be a downside for those looking for more control and workability around the greens.
In conclusion, the Titleist Velocity Golf Balls Matte Green are a top choice for golfers who prioritize added distance while still maintaining a relatively playable greenside feel. While it may not be the perfect ball for everyone, I can confidently recommend giving them a try to see if they work well with your game.
I highly recommend these Chromax Metallic M5 colored golf balls for their high visibility, durability, and unique visual appeal.
Pros
Highly visible and easy to find
Durable Surlyn coating
Selection of 8 vibrant colors
Cons
Slightly more expensive than other golf balls
Some colors are more visible than others
Limited to 75 compression core
I recently had the chance to use these Chromax Metallic M5 colored golf balls on the course, and I was quite impressed. As an avid golfer who occasionally struggles with tracking my shots, the high visibility of these balls truly made a difference. The unique reflective Surlyn coating not only made it easier to spot the ball on the fairway but also in the rough.
The durable Surlyn coating provides the ball with longevity, allowing me to play multiple rounds without worrying about wear and tear. Additionally, the Chromax M5 has a 75 compression core with larger dimples, which gave my drives an added distance boost. This feature, paired with the solid control it offers around the greens, made my overall experience enjoyable.
One thing I appreciate about these Chromax golf balls is the wide range of colors, from gold and silver to neon green and purple. This variety allows golfers to find a color that resonates with their style and may even give them a competitive edge over others. It's also an excellent golf gift for a partner who frequently confuses their ball with yours.
While the Chromax Metallic M5 colored golf balls may be slightly pricier than other options, I believe their high visibility, durability, and unique features make them a worthwhile purchase for golfers, regardless of skill level or age.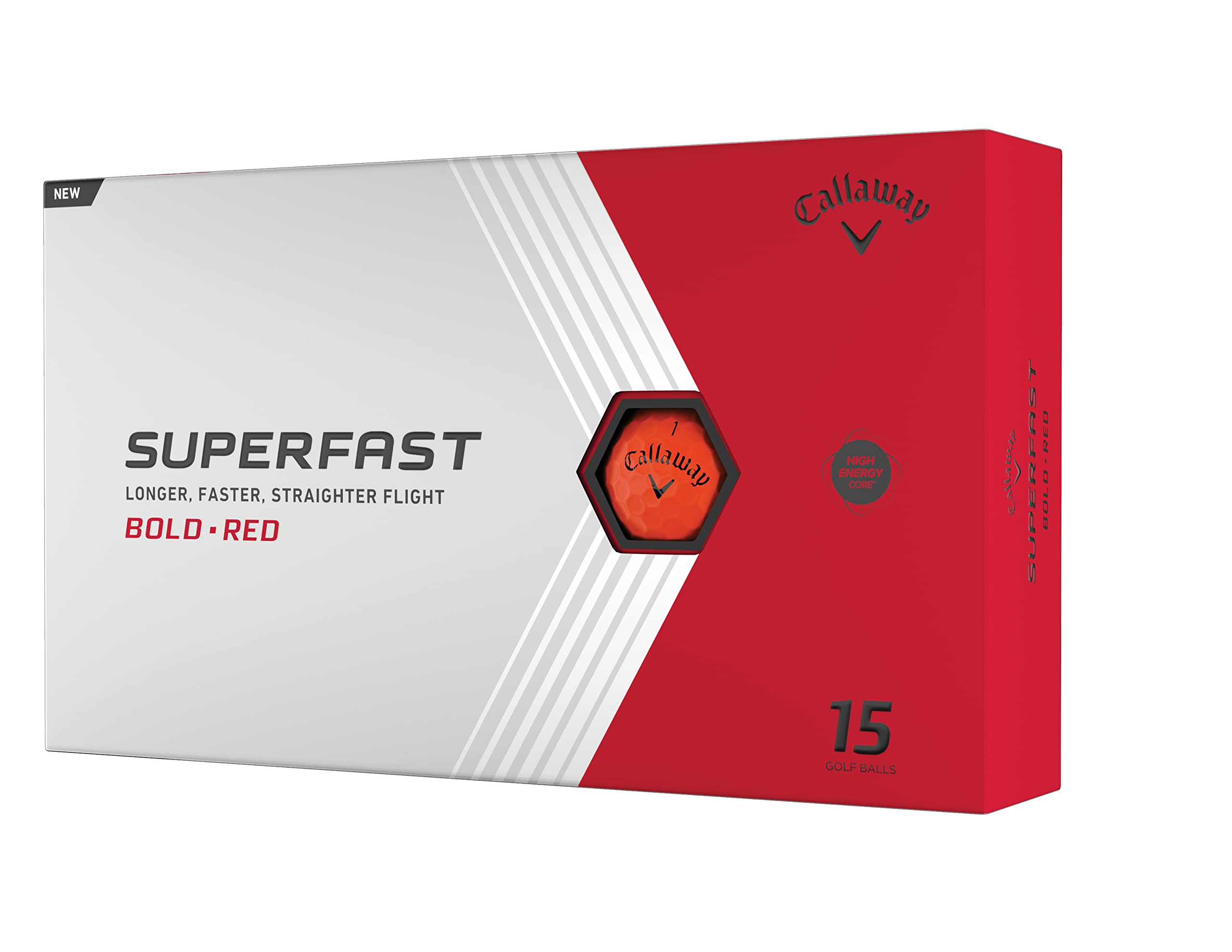 Callaway Superfast Golf Balls are ideal for golfers seeking distance, durability, and excellent greenside control.
Pros
Impressive distance and ball speed
Durable hybrid cover with PARALOID Impact Modifier
Good greenside control
Cons
Might not produce as much spin as others
Less suitable for players seeking a soft feel
Limited color options
I recently had the pleasure of trying out the Callaway Golf 2022 Superfast Golf Balls Superfast Red at my local course, and I have to say these did not disappoint. The high-speed core combined with the innovative hybrid cover truly helped me achieve long-distance and fast ball speed throughout my game.
The durability of the Callaway Superfast Golf Balls was impressive as they withstood several rounds without showing significant wear and tear. The PARALOID Impact Modifier in the hybrid cover not only enhanced the ball's durability but also improved greenside control, making it easier for me to land precise shots.
One thing I noticed, however, was that these balls might not produce as much spin as some other options on the market. If you're looking for a lot of spin, this might not be the best choice for you. Additionally, the balls have a firmer feel, which might not suit players seeking a soft feel from their golf balls. Finally, while I enjoyed the red color of the Superfast Red Golf Balls, the color options are limited compared to other brands.
In conclusion, the Callaway Golf 2022 Superfast Golf Balls Superfast Red are a solid choice for golfers who value distance, durability, and greenside control in their game. Although it might not be the best option for those seeking extra spin or a softer feel, it still delivers a consistently strong performance on the course.
These Golf Ball Planet colored used golf balls are a great option if you're seeking variety in color and brand at an affordable price.
Pros
Wide assortment of colors and brands
Good condition for used balls
Economical choice
Cons
Not in original packaging
May include logos and pen markings
No set percentage of any brand/color in the mix
When I received my order of Golf Ball Planet colored used golf balls, I noticed that the assortment contained a diverse selection of both colors and brands. They come in a handy mesh bag, which is a nice touch for easy organization and transport.
Although these balls are used, I found that they were in very good condition. Some of them even looked as if they were barely used. Majority of the balls were yellow, with some green, pink, and orange mixed in. There may be logos and pen markings on some of the balls, but that's a minor trade-off considering the great value you're getting with these pre-loved golf balls.
One thing to note is that there is no set percentage of any brand or color in the mix, so if you have a specific preference, you might not receive as many as you would like. However, this also means you have the opportunity to try different brands and discover which ones suit your play style best.
In summary, if you're open to the idea of using colored golf balls and not overly concerned about the particular brands, I highly recommend the Golf Ball Planet 72 Colored Used Golf Balls. The assortment offers great value for money and allows you to add some fun and variety to your golf game.
The Bridgestone e12 Contact Golf Balls offer great value for mid-handicappers seeking longer and straighter shots with improved feel.
Pros
38% more surface contact for efficient energy transfer
Long and straight flight with all clubs
Softer core for enhanced feel
Cons
Less spin control around the greens
Not suitable for very fast greens
Scuffs easily
I recently had the chance to play with the Bridgestone Golf 2021 e12 Contact Golf Balls, and I must say that I could feel the difference in their performance. The CONTACT FORCE DIMPLE creates 38% more surface contact between the golf ball and club, leading to a more efficient energy transfer and longer, straighter shots. The softer core also contributed to an improved feel for every shot.
However, while they had many positives, the e12 did have some drawbacks. While my full shots had reduced slice and hook spins, I found that these balls did not provide as much spin control around the greens as I would have liked. Despite the increased friction for better spin, it was a bit more challenging to stop the ball on fast greens.
Another factor I noticed was that the e12 balls scuffed more easily than other golf balls I have played with. This may not be a deal-breaker, but it is something to consider if the appearance of your golf balls matters to you.
All in all, the Bridgestone Golf 2021 e12 Contact Golf Balls offer excellent value for mid-handicappers, delivering distance, straight flight, and a softer feel. Though they may lack in precise spin control around the greens and tend to scuff easily, their overall performance makes them a solid choice for those looking to improve their game without breaking the bank.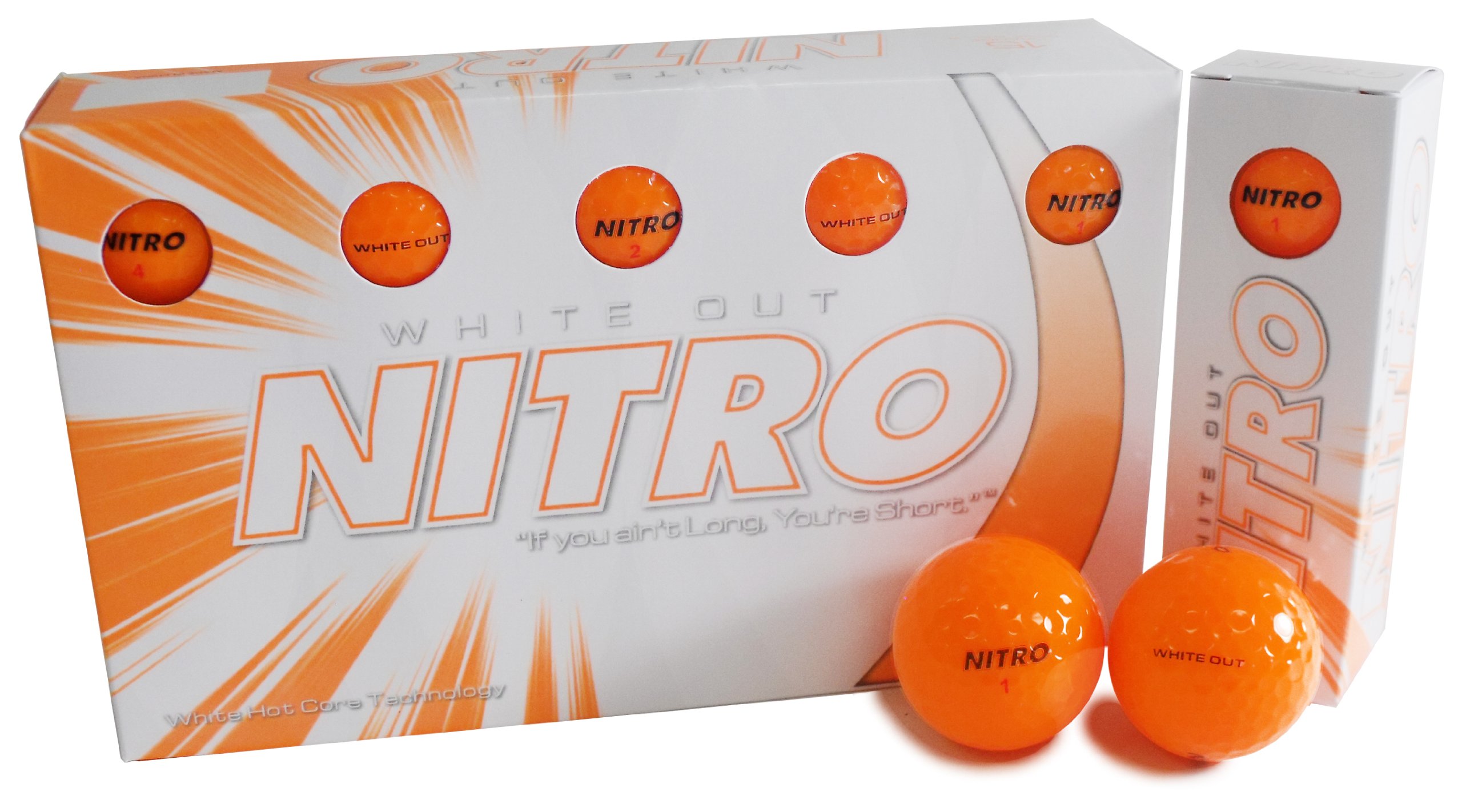 The Nitro White Out Ball is an affordable option for those seeking a soft feel and impressive distance on the golf course.
Pros
Two Piece Technology with Soft Dupont Lithium Cover
White Hot Core for Exceptional Distance
Metallic Finish for Easy Visibility
Cons
Lacks the same smooth flight as premium golf balls
Might be less durable compared to high-end options
May not suit those who prefer a firmer ball
Having just played with the Nitro White Out Ball, I was pleasantly surprised at how much distance I gained on my shots. The soft Dupont Lithium cover and White Hot Core both contribute to the powerful drive this golf ball delivers. With its bright orange color and metallic finish, finding the ball was straightforward, even when it ended up off the fairway.
The primary downside I noticed while playing with these balls was that they didn't fly as smoothly as some premium golf balls on the market. That being said, when considering the price point, the Nitro White Out performs commendably. One issue I encountered was that some balls showed signs of wear after a few aggressive shots, suggesting they might not be as durable as costlier options.
Although these Nitro balls have a softer feel, golfers who prefer a firmer, more stable ball may want to look elsewhere. However, for those looking to save money without sacrificing too much quality, the Nitro White Out 15-Pack is an excellent choice.
In conclusion, the Nitro White Out Ball is budget-friendly and offers great distance while maintaining a soft feel, which could be a suitable pick for golfers at varying levels of expertise. With its bright color and metallic finish, visibility won't be an issue during your rounds. If you're comfortable overlooking the slight imperfections in flight and durability, this ball is worth trying.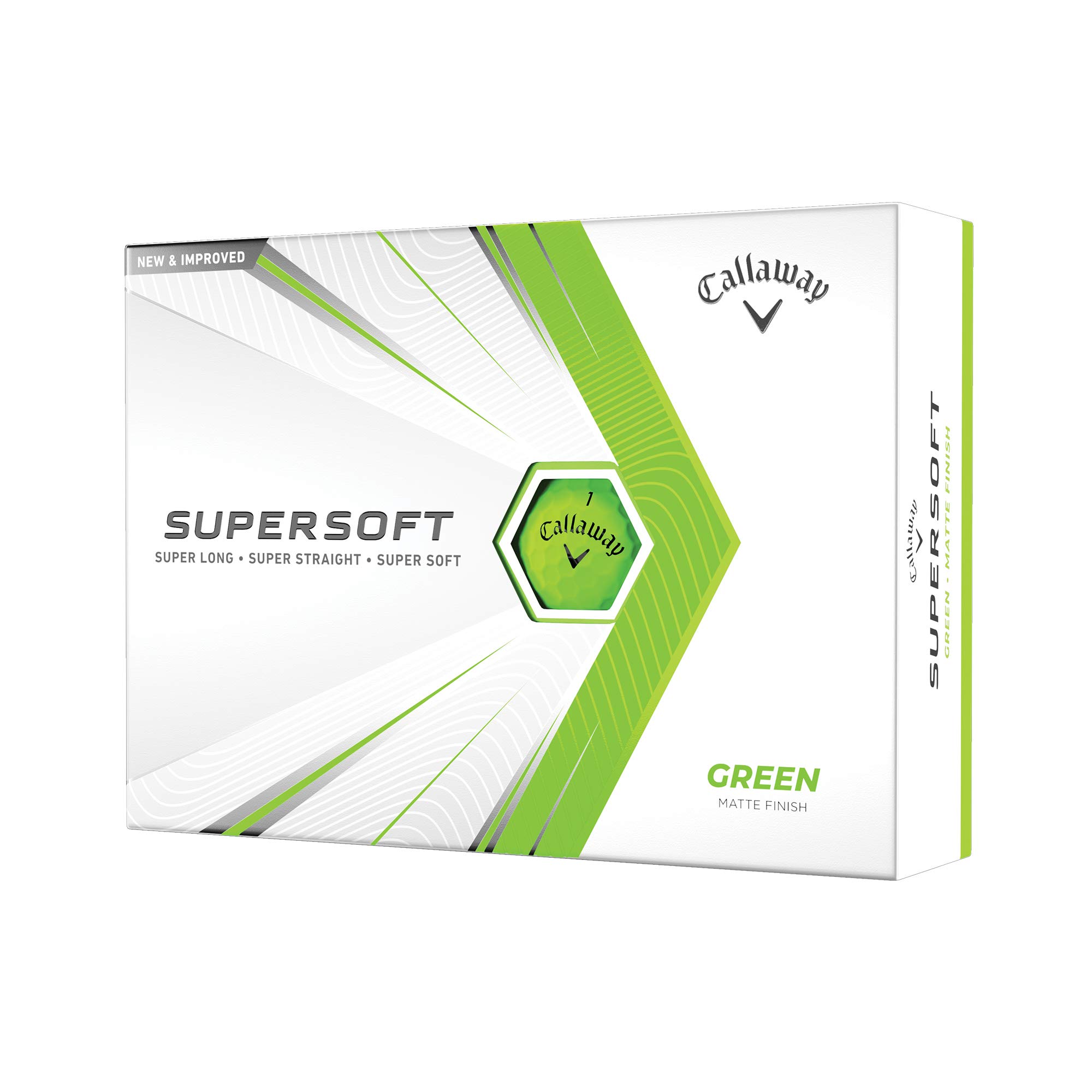 A great choice for golfers seeking distance, soft feel, and excellent greenside control, the Callaway Golf 2021 Supersoft Golf Balls are a must-try.
Pros
Impressive cover, core, and flight technologies
Features innovative PARALOID Impact Modifier
High-speed soft compression core for increased ball speeds
Cons
Matte finish might not be to everyone's preference
Some colors can be difficult to see at a distance
Durability could be slightly improved
Recently, I tried out the Callaway Golf 2021 Supersoft Golf Balls. I was quite impressed by the updated cover, core, and flight technologies that Callaway has incorporated into this popular golf ball.
One unique feature that stood out for me was the Hybrid Cover with PARALOID Impact Modifier by DOW Chemical. It provided a perfect combination of fast ball speeds, soft feel, and excellent greenside control. The high-speed soft compression core also maximized energy transfer, increasing ball speeds and promoting high launch and low spin for longer distance.
However, the matte finish wasn't to my personal preference, and I found the green color to be slightly challenging to spot at a distance. It would be great if Callaway could offer a wider range of colors as it might help other golfers who encounter similar issues. Additionally, I noticed that the golf balls could wear down after extended use, so improving durability might be something for Callaway to consider in future iterations.
Overall, I found the Callaway Golf 2021 Supersoft Golf Balls to be a strong choice for any golfer seeking improved distance, softness, and greenside control.
These Wekje Colored Golf Balls are a fun and practical choice for those seeking high-performance, colorful practice balls.
Pros
Vibrant colors for easy visibility
Durable two-piece construction
Suitable for both adults and children
Cons
Only six balls included
May not suit professional use
Design may not appeal to all golfers
After recently trying out the Wekje Colored Golf Balls 6Pack, I can confidently say that they are not only visually appealing with their bright colors, but also functional for golfing practice. The colors make them easy to spot on any terrain, which is particularly helpful when practicing in challenging environments or with children.
The durable two-piece construction ensures that these balls can withstand a good amount of use. Having taken several swings, I noticed that they held up well and maintained their vibrant colors. Moreover, these balls are suitable for both adults and children, making them a fantastic option for family play or even as a gift.
My only qualm is that the package comes with just six balls. I would have preferred a larger pack for longer practice sessions. Additionally, while these balls perform well during practice, they might not meet the standards of professional golfers. Finally, the design and coloring may not appeal to everyone, but that is a minor issue when considering the benefits of having high-visibility golf balls during practice.
In conclusion, I recommend the Wekje Colored Golf Balls 6Pack for those seeking a fun, eye-catching, and functional practice option. These balls are particularly suitable for family play and casual practice sessions, but keep in mind that they might not be ideal for professional use.
These golf balls offer a great variety and deliver solid performance, making them a good choice for golfers on a budget.
Pros
Wide mix of well-known brands
Diverse colors, easy to spot
Eco-friendly choice through recycling
Cons
Condition may vary
Not as good as brand new balls
Packaging may not be consistent
I recently had the chance to hit the course with the Golf Ball Country 48 Pro Line Used Golf Balls, and I am quite impressed with their performance. The set includes balls from various premium brands like Bridgestone, Callaway, Srixon, Taylormade, and Titleist, meaning golfers can experience diverse characteristics each included ball has to offer.
These balls not only come in various colors like green, blue, yellow, pink, red, and orange but also can be easily spotted on the course. The unique colors made it easier for me to identify my ball after taking each shot. However, keep in mind that the proportion of each color may vary within the set.
The balls are available in different conditions, with the 3A, fair condition balls being much more affordable than purchasing brand new ones. Just take note that their conditions can vary, as well as their packaging. Some may come with scuffs or cosmetic imperfections, but they still play well, which matters the most.
Overall, the Golf Ball Country 48 Pro Line Used Golf Balls provides golfers an affordable and environmentally-friendly option with a broad mix of premium brands, adding a touch of fun and vibrancy to the game.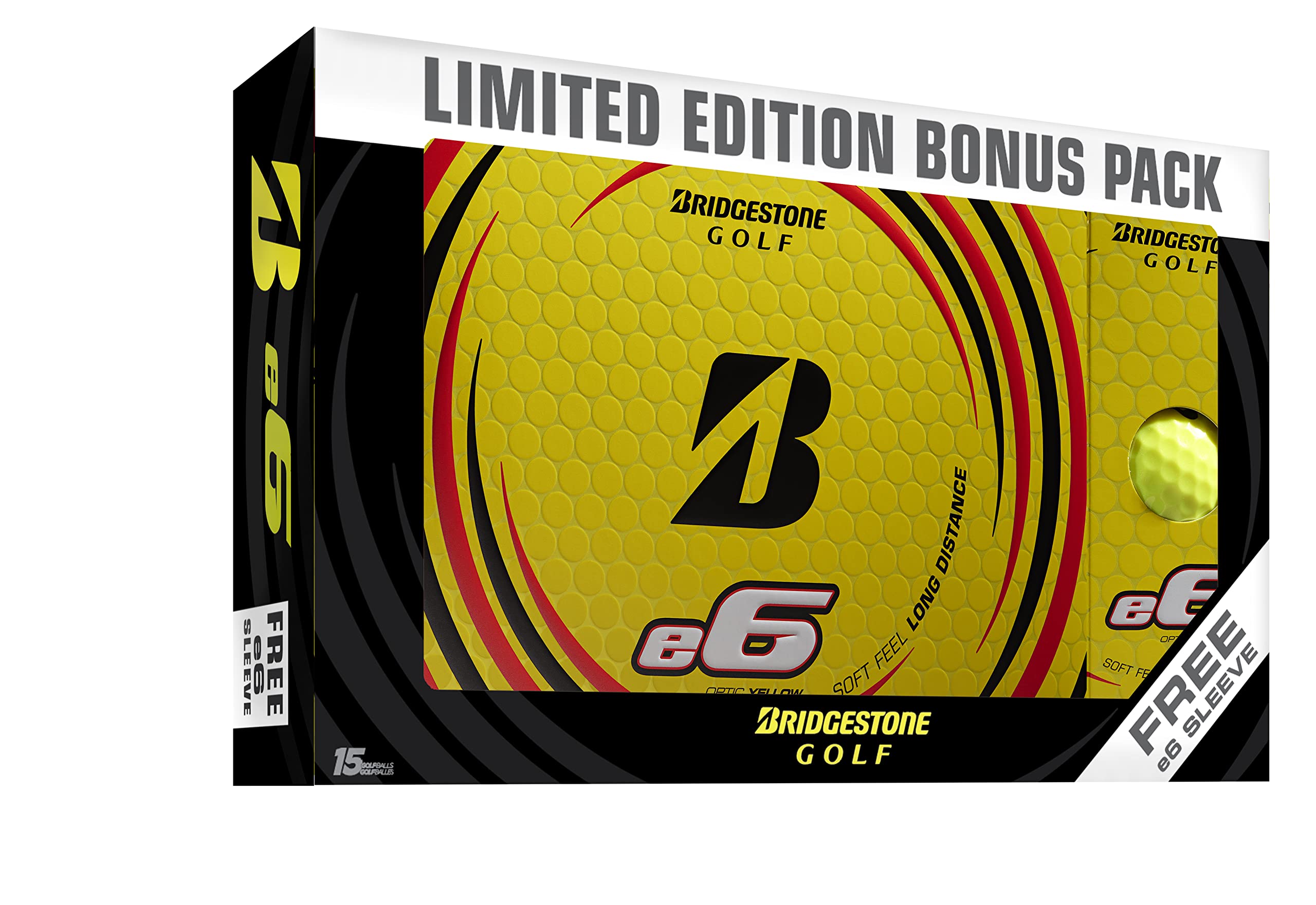 I recommend these golf balls for players seeking a balance of soft feel, long distance, and affordability.
Pros
Soft feel for improved playability
Enhanced for long distance shots
Comes in a bonus pack for better value
Cons
Not specialized for high spin rates
Yellow color, not a preference for all golfers
Just as easy to lose as other balls
I recently had the opportunity to test out the Bridgestone 2021 e6 Golf Balls in the Yellow Bonus Pack, and I must say, I was quite impressed. These golf balls offer a soft feel, which is crucial for better control on the course. The reengineered design features a larger, softer core, allowing for faster compression and longer distance shots. This makes them an excellent choice for golfers of various skill levels seeking to improve their game.
However, it's essential to mention that these golf balls are not necessarily designed for high spin rates. For those who prefer to have more control over their shots' spin, other options may be better suited. That said, the e6 golf balls still provide a good balance between distance and feel, making them a reliable option for most players.
The yellow color of these golf balls may not appeal to everyone, but I found them to be quite beneficial in terms of visibility. It's easier to spot them on the course, which can be a significant advantage, especially for those with aging eyes or in low light conditions.
Overall, I believe the Bridgestone 2021 e6 Golf Balls in the Yellow Bonus Pack provide a great deal for golfers looking to enhance their performance on the course. The soft feel, increased distance, and visibility of these balls make them a viable choice. While they may not cater to those seeking high spin rates or have personal preferences for specific colors, they are worth considering for the average golfer seeking a balance of features and affordability.
Buying Guide
When it comes to choosing the best colored golf balls, there are a few factors that I recommend considering. These factors will help ensure that you select a product that best suits your needs and preferences. Let's dive into these features.
Visibility: One of the primary reasons to opt for colored golf balls is to improve visibility on the course. Different colors will stand out against various backgrounds, so consider the typical environments you play in when selecting a color. For example, bright colors like neon or fluorescent varieties can be easier to spot in most situations.
Durability: As a golfer, I understand the importance of having golf balls that can withstand multiple rounds. Look for options with a strong cover material, such as urethane or ionomer, as these tend to be more resistant to scuffs and cuts.
Performance: Ultimately, you'll want a golf ball that performs well in terms of flight, spin, and distance. Key factors to consider include:
Compression: Lower compression balls (70-80) are typically softer and offer more control, while higher compression balls (90-100) provide more distance for faster swing speeds.

Dimple pattern: Dimples on the golf ball affect its lift and drag during flight. A higher dimple count generally results in less air resistance and enhanced lift, translating to better distance and trajectory.
Price: Your budget may play a role in your decision-making process. Keep in mind that investing in a quality product may be more cost-effective in the long run, as it can result in better performance and durability.
In conclusion, when selecting the best colored golf balls, prioritize visibility, durability, performance, and price. By taking all these factors into account, you will be better equipped to choose the ideal product for your specific needs. Enjoy your time on the course!
Frequently Asked Questions
What colored golf balls are easiest to spot?
In my experience, bright neon colors like yellow, orange, and green are easiest to spot on the golf course. They create a higher contrast against the green grass and blue sky, making them easier to follow during play.
Which Chromax Golf ball color is the most visible?
Chromax Golf offers a variety of colored balls with a reflective surface. Personally, I find their neon green and bright orange colors to be the most visible, especially in sunny conditions. This is because they contrast well against the natural colors of the golf course.
Are there any recommended golf balls for beginners?
Yes, there are golf balls designed specifically for beginners. I would recommend looking for golf balls with features such as low compression, soft feel, and distance enhancement. Colored golf balls can also be helpful for new players as they are easier to spot. Some brands to consider include Callaway, Titleist, and Wilson.
What are the top high visibility golf balls?
There are numerous high visibility golf balls on the market. A few of my top picks include Callaway Chrome Soft Truvis, Srixon Z-Star Vibrant, TaylorMade TP5 Pix, and Volvik Vivid. These balls have bold, bright colors and patterns which improve visibility during play.
Do professional golfers use colored balls in tournaments?
Although not very common, some professional golfers do use colored golf balls in tournaments. It's important to note that the choice of ball color is usually based on personal preference or sponsor requirements. The majority of professionals stick to white golf balls, as they offer better visibility in certain conditions and have a more traditional look.
How can I pick a golf ball for better visibility?
When selecting a golf ball for better visibility, consider factors such as your playing environment, personal preference, and skill level. For instance, if you often play in overcast conditions, opt for brighter colors like neon orange or yellow. Test out a few different colored balls to see which works best for your personal playing style and vision.