Last Updated on November 2, 2023
Have you ever wondered what to wear to crazy golf? It's a tricky question and getting it right can be the difference between having fun or feeling uncomfortable. But why does it matter what clothes you choose for crazy golf?
Well, aside from looking good on the course, wearing comfortable clothing is important. With this in mind, let's take a look at some top tips for choosing the perfect outfit for an afternoon on the green. In this article, we'll explain exactly what to wear when playing crazy golf so that your experience is as enjoyable as possible.
Appropriate Attire
When it comes to playing crazy golf, there are certain dress codes and outfit choices you should consider. When selecting your outfit, be sure to choose something that will keep you comfortable while also looking nice. Golf attire such as slacks or khakis with polo shirts is always recommended but not necessary. You can opt for more casual wear if desired, such as jeans and t-shirts. Just make sure whatever you wear is weather appropriate; bring along jackets or sweaters in case of cold temperatures or rain. Lastly, don't forget to bring shoes suitable for walking on grassy terrain.
Types of Clothing to Avoid
When playing crazy golf, it is important to dress appropriately. Ill-fitting and unsuitable clothing can create a distracting environment for fellow players. For example, clothes that are too tight or revealing should be avoided for both men and women as they can make others feel uncomfortable. Similarly, any type of clothing that could be deemed inappropriate or offensive in any way should not be worn while playing this game.
Ultimately, the key is to wear clothing that allows you to move freely without being overly tight or restrictive. Clothes with bright colours and patterns may also help lighten up the atmosphere on the course, but avoid anything that could potentially cause a distraction from the actual game itself.
Footwear Considerations
When it comes to footwear for crazy golf, you'll want a pair of shoes that provide both comfort and stability. Golf shoes are ideal because they feature specialised spikes on the bottom which grip tightly onto the ground's surface. If however, you don't have access to golf shoes, any non-slip shoe with closed toes should suffice. Additionally, if your chosen course has wet patches or is near water sources such as ponds or lakes, then waterproof shoes might be necessary. Lastly, shock-absorbent soles can help reduce discomfort caused by uneven terrain and sudden changes in elevation.
Overall, proper footwear will ensure an enjoyable experience at the crazy golfing range. Make sure your choice of footwear is comfortable enough for long periods of standing and walking while providing adequate traction and protection from unexpected hazards.
Benefits of Dress Code
Moving on from footwear considerations, there are several benefits to having a dress code. A dress code can help create a sense of uniformity in an environment and show respect for the venue or event. Here are some advantages that come with enforced dress codes:
Dress Code Advantages: A well-enforced dress code helps promote professionalism at any event, whether it's a formal dinner or a crazy golf outing. It also sets expectations for guests and encourages appropriate behaviour.
Dress Code Respect: Having an enforced dress code shows respect for others attending the event by ensuring everyone is dressed appropriately and no one stands out due to their outfit choices.
Dress Code Uniformity: Dressing according to the same guidelines creates a sense of unity and belonging among participants, making them feel more comfortable with each other throughout the event.
Dress Code Professionalism: Enforcing a dress code adds credibility to your business or organisation by showing customers and clients that you take pride in what you do—even if it's just playing mini golf.
No matter how casual the activity may be, enforcing a simple dress code will demonstrate respect for both yourself and those around you while creating a cohesive atmosphere of professionalism.
Accessorising for Comfort and Style
Accessorising for comfort and style when playing crazy golf is essential. Sunglasses are a must, not only to protect your eyes from the sun but also as an added fashionable touch. Hats are great for keeping you cool in hot weather and can add a fun element of personalisation to any outfit. Lastly, don't forget comfortable shoes with plenty of grip that will hold up through all 18 holes.
It's best to choose colourful designs and prints that show off your personality while still being practical enough for the game. With the right combination of accessories, you'll be sure to look stylish and feel comfortable while playing crazy golf.
Outfit Ideas for Women
When deciding what to wear for a day of crazy golf, women should opt for clothing that is both comfortable and stylish. To help narrow down the choices, here is a table with some popular outfit options:
| Option | Description | Benefits |
| --- | --- | --- |
| Shorts | Lightweight shorts in any colour or pattern are perfect for playing in warm weather. | Lightweight fabric keeps you cool while providing flexibility when swinging your club. |
| Polo Shirt/T-shirt | A collared polo shirt paired with shorts gives a classic look. T-shirts can also be worn but may not be as appropriate depending on the setting. | Polos provide extra coverage to keep you looking put together, while t-shirts come in all kinds of fun patterns and colours which make them more versatile than polos. |
| Golf Skirt/Dress | Golf skirts and dresses offer an alternative to traditional bottoms while still being practical enough to play in. | They tend to have pockets which are great for storing scorecards or tees, and they offer more coverage than shorts do, so you don't have to worry about showing too much skin if it gets windy. |
No matter what option you choose, always remember that comfort comes first when picking out what to wear for crazy golfing. Make sure you pick clothes that won't constrict your movement so you can move freely without worrying about snags or rips during gameplay.
Outfit Ideas for Men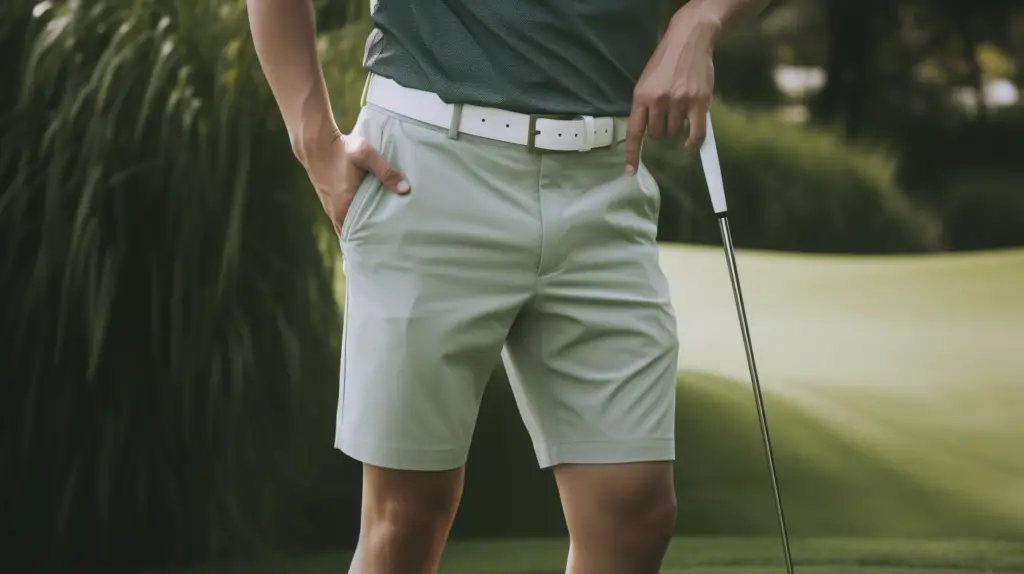 When it comes to menswear for a day at the golf course, there are some great options. For those looking for something dressy and appropriate for golfing, a collared shirt with khakis or dark-coloured slacks is an excellent choice. Men's golfing outfits can also include polo shirts paired with shorts in more casual settings.
Golfing style doesn't have to be boring either – try adding colour to your look with bright clothing items like patterned socks or colourful belts. Finishing off your outfit with stylish sneakers or loafers will help add even more flair. Keep in mind that when playing on certain courses, hats may not be allowed so you'll want to find out the rules beforehand. Overall, choosing the right clothes for men's golfing should make going crazy golfing comfortable while still looking good.
Frequently Asked Questions
Is There a Recommended Age for Children to Play Crazy Golf?
When it comes to playing crazy golf, age is an important factor. While there are no hard and fast rules for how old children must be before they can play the game, most courses recommend a minimum age of five or six years old. This ensures that all players understand the basic safety protocols in place and can interact with other participants in an appropriate manner.
Nevertheless, each course may have its own regulations regarding what age groups are allowed to participate. For example, some courses might require older children to attend with adult supervision while others may ask that younger children wear helmets. Furthermore, some courses may offer discounts for certain ages or provide special activities designed specifically for kids.
Ultimately, when deciding whether your child is ready to hit the links at a crazy golf course, it's best to consult local guidelines as well as check out their website for any relevant information about their policies on age restrictions. By doing so you'll be able to make sure your little ones are having fun yet staying safe while enjoying this classic sport.
Are There Any Etiquette Rules I Should Be Aware of When Playing Crazy Golf?
When playing crazy golf, it is important to consider the etiquette rules that apply. There are many considerations such as age-appropriate behaviour, following posted regulations and respecting other players' games. Here are some key points to keep in mind when engaging in a game of crazy golf:
Be aware of your surroundings and be respectful of others who may also be playing by keeping noise levels down; refrain from running or jumping around on obstacles.
Follow any safety instructions provided by staff at the facility
Respect the game itself and avoid putting too much pressure on yourself and leave the competitive spirit for later rounds
It's important to remember that basic courtesy goes a long way when playing crazy golf. It's best to show respect for both fellow players and the course itself so everyone can have an enjoyable experience.
Conclusion
It's important to consider what to wear to crazy golf playing activities. The rules and safety considerations will vary depending on the course, so make sure to check with the venue beforehand. Remember, it pays to familiarise yourself with the etiquette rules of crazy golf; after all, you want your experience to be as enjoyable as possible.
All in all, planning ahead can really help make your game go smoothly. So whether you're looking for something comfortable yet stylish, or just need extra protection from the elements – have fun choosing what to wear and enjoy your round of crazy golf.